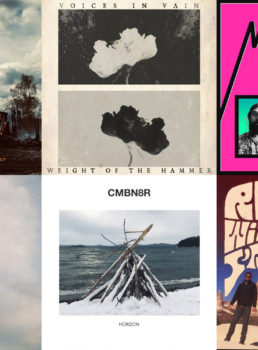 A2VT – I'm a Soul Survivor

A2VT's new single blends the group's trademark sounds of Afropop, R&B, and hip-hop with a surprising twist: '80s metal. After three extremely catchy minutes of singing and rapping, an epic guitar solo bursts forth by an actual '80s-metal vet, Andre Maquera of 8084. It reminds of that time Kirk Hammett guested on a K'naan song, in the best way possible.
Boys Cruise – Room for Reason

Boys Cruise's debut Jerry was one of my favorite albums of 2019. A concept album about the life of a rat, Jerry was strange…but their new single "Room for Reason" might be even stranger. I don't know it's about rodents of any variety, but it stops and starts, lurching around riffs and rhythms. It's a punk banger one minute, a ballad strummer the next.
CMBN8R – Mother of All Beings

On "Mother of All Beings," producer CMBN8R takes the unlikeliest of sources – a reading from Thich Nhat Hanh's environmental justice tract "Love Letter to the Earth" – and turns it into a mesmerizing electronic music track. Other songs on new his EP Horizon are just that – songs – but "Mother of All Beings" serves as a surprising detour amidst his immersive beatscapes.
Dogface – Tomahawk

That's Dogface with one "g" not two, so don't expect any cranberry juice and skateboarding here. Dogface's self-titled demo crams a lot of ideas in a small package, from punk ("Long Walk to Winooski") to jazz ("Interlude") to jamband ("Confusion"). They could take their sound in any direction, but I hope they retain the grungey-Weezer touches of "Tomahawk."
Francesca Blanchard – new year's in paris

The title "New Year's in Paris" sounds aspirational, but in Blanchard's case, it's just a basic fact; she escaped Vermont last year to ride out Covid in France. Turns out the setting isn't as bucolic as it sounds. The closing verse goes: "maybe ill try sleeping with one eye open for the rest of the night / pay close attention to the noise outside and wait until the flashbacks subside."
George Nostrand – The River

"I come from down in the valley…" Wait, sorry, wrong "The River." George Nostrand's "River" is significantly more upbeat and optimistic than Bruce's bleak ballad. Fewer shotguns weddings and teenage pregnancies too. That piano solo kinda sounds like Roy Bittan though.
Ghost Story – Post Malone Blues

A talking blues about wanting to be like Post Malone that sounds like something on an early Dylan album (but, again, about Post Malone). Like a Todd Snider song, it's surprisingly sympathetic, with the digs – to the extent there are digs – pretty subtle.
Go Outside – Soak in the Sun

The person behind Go Outside helpfully includes two descriptions of his new EP Modal. The first is for the gearheads: "This is a collection of songs based around a single sound source. The synthesizer that provides every sound you're hearing is the Arturia Microfreak. There is a particular oscillator called the modal oscillator that provides the plucky, nasal sound that you hear throughout the album." The second is for the rest of us: "This album is about connecting with the rhythm of life. It's hard to describe or even point to, but you can feel it when you're in the groove."
Greg Davis – Westerly

Recognize that album cover? It's a small section of the cover for the Beach Boys' 1974 greatest-hits compilation Endless Summer. That's because this composition, "Westerly," was originally commissioned for a 2007 exhibition of art inspired by Brian Wilson. Don't expect a Beach Boys pastiche, though; "Westerly" is an ambient meditative journey, recorded live at the exhibition's opening night concert but just released on Bandcamp.
Lowell Thompson – Doorstep Religion

Lowell Thompson is a great and extremely un-prolific singer-songwriter. He hasn't released an album since 2014, well before I started this site, so I haven't been able to write about his music as much as I'd like (I did sneak him into a retrospective thing a while back). Seems like he might finally be gearing up for something though, dropping this new song on Bandcamp – newly-recorded that is; he's been performing it since 2009 – and teasing what looks to be one hell of a music video.
New Erotics – Roses On A Grave

Post-punk that frequently departs from its catchy synth hooks to pure yell-along rowdiness, New Erotics' new self-titled EP would surely be a blast to hear live. For now, you'll have to scream and jump around at home.
Patrick J Crowley – All Was Set Fair

Patrick Crowley has popped up here in a couple different guises before – Deep River Saints, Quasar Valley Band. He makes music of the cosmic-Americana sort, using traditional country-rock instruments to go to some weird places. Fitting that the album cover is a picturesque log cabin…that's on fire.
Peg Tassey – Winter Comes

For her new song "Winter Comes," Peg Tassey released not one but three music videos. My favorite by a hair is the second version, combining old family photos with scenes of Vermont, but you can see all three on her YouTube to compare for yourself.
Quiltro – Antilla

A live performance of the "live" in 2020 sort, the groovy post-rock instrumental and psychedelic visuals might make you long for vibing out at an actual concert.
Repelican ft. Giant Wave – Oh My God

We've just going in alphabetical order, but this segues perfectly out of the Quiltro track. Repelican aka. Jon Ehrens recruits a host of collaborators to co-write and sing almost all the songs on his new album I'm Not One: Vol. 1. "Oh My God" with Giant Wave is the first, but the whole thing is worth listening to. Sam Herring of Future Islands guests on one of the tracks, the Soft Pink Truth on another.
Roost.World – Rollerblading

A slice of apocalypse disco, "Rollerblading" would feel upbeat and dancey except for the Satanic pitched-down vocals. A funky guitar solo saunters in at the end to lighten the mood.
Sarah King – Not Worth the Whisky

Sarah King's murder ballad "Nightstand" topped our year-end songs list in 2020, and "Not Worth the Whisky" brings the same dark gothic-Americana energy. True Detective should license these songs. If the shitty dude being threatened somehow survived "Nightstand," it doesn't sound like he'll make it through "Not Worth the Whisky" alive. 
Tasheff – Easy

Shades of Frank Ocean come through strong in "Easy" – at least until the beat drops. Tasheff writes of his new EP The Dream Is Dead, "It is very emotional in its lyrics and its production takes inspiration from synthpop classics, but features some more adventurous decisions including unique samples, recreating retro recording textures, and verses that mutate and reinvent themselves with each iteration."
Troy Millette – Stay (Please)

Country singer Troy Millette's new song "Stay" has been kicking around unrecorded since 2016, but when he began to record his new album with producer Chris Hawthorn, he decided to give it another shot. He explains the back story in an email: "I wrote it about a girl who was in a pretty serious relationship, but I was convinced that I was the better choice. When we went back into the studio to start recording our new record, the melody just seemed to fit the vibe of the other songs, so I revisited it and finally finished a full draft in the studio with Chris Hawthorn. I loved the sentiment of the bridge, looking back on how I actually would have been TERRIBLE for her in that situation, but the melody felt jagged and forced, so Chris suggested that we just talk it out, and it played out into one of my favorite moments in the song."
Voices in Vain – Weight of the Hammer

Most metal opening verse of the month: Strike the anvil / Broken fingers and shattered teeth / Born to suffer / An eternity of servitude." It will not surprise you to learn those lines are not exactly crooned.