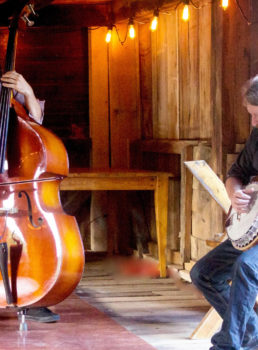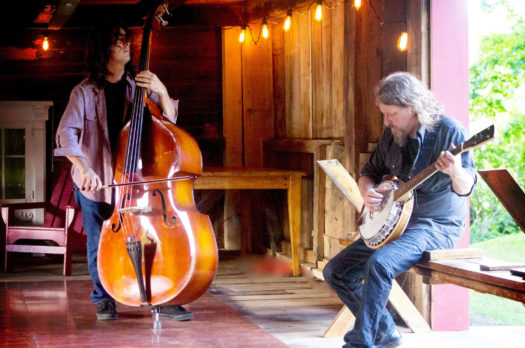 "A Better Version of the Truth was the toughest record I have ever made," Bow Thayer writes on Bandcamp – and that's saying something from a man who once battled an ice storm with Levon Helm to record.
But that can't be compared with the tragedy Thayer encountered during the three-year journey towards his latest album. First, his drummer suffered multiple strokes, rendering him unable to play during two years of physical therapy. Sadder still: This past March, his bassist Alex Abraham took his own life at just 28 years old. (Read his obituary at the Vermont Standard, which includes details about how to donate to the Alex Abraham Musical Excellence Scholarship at Woodstock High School).
Thayer writes about the tragedy quite movingly in the album's liner notes. My paraphrase won't do his words justice, so I'll quote that part in full:
On March 31st of this year, we were scheduled to play a local show. Come set time, our bassist Alex Abraham was nowhere to be found. After limping through the gig without him, I called home and asked my wife to go check on him. Alex was living at a friend's house just up the road from us. Maybe his car got stuck – it was a pretty sloppy mud season. Or maybe it was just another miscommunication – I'm known for those. But upon arriving home I was greeted with a look and telepathy that shook me to the bone. My wife had found Alex after he had placed a Remington Model 33 rifle in his mouth and pulled the trigger. Upon reaching the scene nothing could have prepared me for what I witnessed. It broke my heart (and it would have broken yours) to to see such an amazing and dear young talent snuffed out of this existence without any explanation. The grief was, and is, almost unbearable, the only solace being his fierce and extraordinary bass tracks left behind.
You can hear one of those bass tracks on the album's just-released title track, accompanied by Thayer's custom "bojotar" (electric guitar + resonator guitar + banjo). Though the song was written before Abraham's death, the lyrics resonate strongly with tragedy: "Haze heavy, shadows and light / A fountain of darkness on the road tonight / Picking at the ice just to get down to the stone / Hoping there's life at the end of the tunnel."
Listen to "A Better Version of the Truth" below, and pre-order the album of the same name (out November 9) on Bandcamp. And, as a bonus, below that watch a live video of Bow and Alex performing together a couple months before his passing (video by Mike Dann).
The National Suicide Prevention Lifeline is 1-800-273-TALK (8255).
Click here for more of the best Americana music coming out of Vermont.