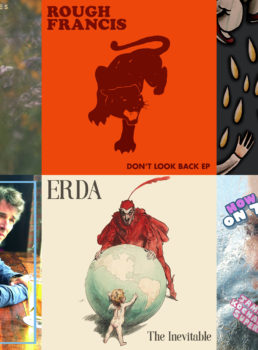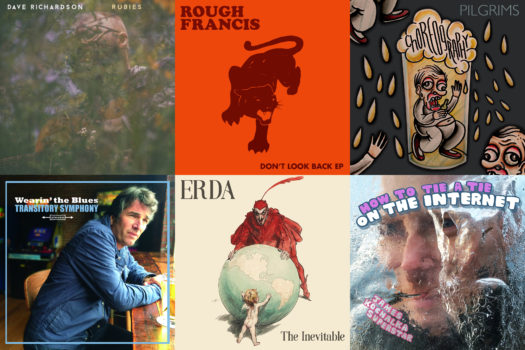 I try to write about as much great music as I can here, but I inevitably fail to get to everything deserving. So I'm inaugurating a monthly-ish series rounding up Vermont's best new songs. It's not ranked and I'm not aiming for any firm number; it's just some songs that were still rattling around my head as the month came to a close.
A few of these I wrote about already, but most I didn't get to. Either way, whether you follow the site or just stumbled upon this, whether you're a Vermonter yourself or have zero local connection, this collects some of the best music the state's been producing recently.
Also, full disclosure: This series is starting with a lie. A few of these actually came out in December, after I'd finished my Best Songs of 2017 post. Close enough.
Dave Richardson – Rubies

There's a "Diamonds on the Soles of Her Shoes" reference in "Rubies," but the song sounds like if Paul Simon exploring the hills of Appalachia instead of South Africa. The fantastic lead single from Richardson's upcoming album draws on bluegrass, but it doesn't feel too tied to tradition. Light on its feet, the song offers a joyful exploration of language and a gemstone-per-line ratio that would make a rapper blush: "I got topaz in my toothpaste / Turquoise in my shampoo / But I can't wash away these sapphire blues."
Dawnlander – Asking Me to Dance

Dawnlander calls debut EP Days Without Fire "an exploration into anxiety's heart and soul" and, as that description might imply, it's not an easy listen. But it's so good that, when culling down songs for this roundup, four of its six tracks were best-of-the-month contenders. Whether he's hollering "How I got here is how I'm gonna go" over a lonesome distorted guitar during "Canary View" or borrowing African funk rhythms in "Glare," every track is a stunner. But I settled on the opener, the song that sets the table for every thing else. It challenges as much as anything on the album, but the attention it demands over its mostly-subdued seven minutes pays off in spades when the squall finally arrives. It feels like a cathartic cleansing.
Erda Obq – Calla

Guitar, bass, drums, piano, and organ make up Erda's arsenal. And, the amazing thing is, Erda isn't a band. It's one guy playing all those instruments – and excellently at that. On his The Inevitable EP that slipped out in December, Eric Friedman roars through six post-rock blasts, bringing in angular Gang of Four rhythms here and Explosions in the Sky noise squalls there. [Update April 2018: The project name has been changed from "Erda" to "Obq"]
James Kochalka Superstar – Thirty Dirty Knives

In my writeup on cartoonist Kochalka's new album, I highlighted a number of whimsical, clever, and well-titled selections ("Queen Latifah's Teeth," "I Read the Hobbit," etc). One I didn't mention though is sneaking up as a favorite. A dark, twisted favorite. As he told me, many of his most out-there songs derive from real-life experiences. I sure hope this one doesn't.
Madaila – Where Do We Go From Here?

This song came out yesterday after I'd already finished this post, but it's so good I'm making a last-minute addition. Who says protest songs can't be fun?
The Nancy Druids – By Design

Yesterday I posted a quiet piano track from new compilation WBKM Live from Robot Dog with Tim Lewis, so today let me feature one that's at a more typical volume for the comp: loud. This song marks The Nancy Druids' first release, channeling the best of 1990s grunge and alternative. That's no coincidence, as two of the members hail from one of Vermont's biggest local bands of the '90s, Envy.
The Pilgrims – Choreography

The Pilgrims recorded one of my favorite albums and songs of 2017, and they're already back with new music. And, in typical form, a ridiculous music video to match. I'll let them introduce it:
It was pilot season 97′ when an executive at a local WB affiliate asked The Pilgrims to film a pilot – the premise: six ex-Navy SEALS/ men's swim wear models are transported to a future in which ROCK N' ROLL has been outlawed. Their mission; a little rhythm, a little bass, and some straight-up KRANKED guitar noodles in the face of neo-dictatorial death crazed fascists. Unfortunately, the channel passed on the show and the tapes were destroyed… all that remained was the theme song.
RiverHALO – Queen for a Day

Folk duo RiverHALO hit a lot of different notes on their debut album, incorporating ukulele, mandolin, cello, autoharp, and more. But the most powerful song may be the one that uses none of these. "Queen for a Day" features no accompaniment other than hands clapping and snapping to buoy the womens' distinctive voices. It sounds like an old-time song from the 1930s that might have appeared on the Anthology of American Folk Music.
Rough Francis – Hangin' On

While Vermont punk fans wait impatiently for the follow-up to Rough Francis' 2014 debut, here's a little curio to tide them over. The band re-recorded their three-song 2010 demo to sound crisper, cleaner, and harder-edged. "Hangin' On" jumps out as a highlight, slower and further from the bands punk/hardcore roots with one hell of a psychedelic swing. If Lenny Kaye ever curates another Nuggets comp, this should be on it.
Shea Witzo – Forgot to Charge my Phone

After the Moldy Peaches, the Juno soundtrack, and Zooey Deschanel, cutesy ukulele songs had a moment in the sun that seems to have faded. Fashionable or not, fewer instruments offer a better no-frills way to put across some catchy lyrics, minimal musicianship required. Shea Witzo's "Forgot to Charge my Phone" is a small gem, a cute and slight love song that's perfect in its modesty. A bigger production would bury the charm.
Transitory Symphony – Ben & Jerry Live in My Hometown

The delivery is lo-fi to say the least, but the lyrics more than live up to the title: "Our kids are in school together / Our kids are in plays together / It's always ice cream for the parties / I wonder if Jerry's ever sorry / He never brings a salad."
Ver Sacrum – California

"California" is the shortest song on Ver Sacrum's new EP, and it still takes two minutes before anything really happens. But bear with it. The payoff for the slower-than-slow build is a mesmerizing meander through folk at its freakiest. Like Bert Jansch on mushrooms or Father John Misty on some heavy sedatives, this spaced-out meditation doesn't reveal itself immediately, but demands return visits.
Why Nona – Masks and Cults

The emo revival is alive and well in Why Nona's debut EP, which channels everyone from relative O.G.s Jimmy Eat World to newcomers Modern Baseball. Catchy as hell, "Masks and Cults" builds hook upon hook to narrate a dream imagining what it would be like to date a movie star. The dream isn't as happy as you might think. This is emo, after all.
Zeus Springsteen – Your Funeral

When I wrote about Zeus Springsteen's new album, I focused on the song about the sexual assault-avenging robot (partially so I could use the hashtag #R2MeToo, which I can't help but notice has failed to go viral). But after some more spins, I'm thinking an equally standout track might be "Your Funeral." The lyrics are sharp and witty, occasionally hilarious and sometimes edgy. There's a radio edit for this song, but it's more than cursing that might not fit on FM. Take this: "When you die, I'll sing at your funeral / And I will woo and bed your hottest friends / And when I close my eyes, I'll picture you up in the sky / Looking down on us and crying."
If you missed it, here's our Best Vermont Songs of 2017 post.