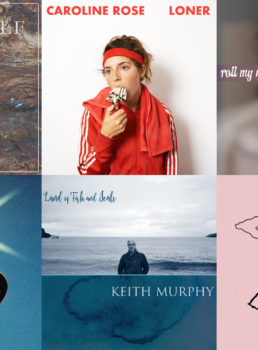 See previous monthly Best-Of lists here.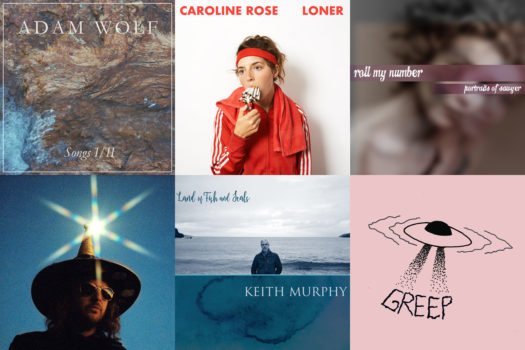 February's a short month, but you wouldn't know it from the amount of music that came out. The second installment in our monthly-except-when-it's-not series spans everything from synth dance-pop to choral composition, indie rock to acoustic funk, Godspeed You! Black Emperor noise to Parquet Courts pastiche. There's a song inspired by hitting the road and one inspired by hitting the sheets. Let's start there.
Adam Wolf – Voyeur

Adam Wolf's other band is called Sleeping In, and for the first four dreamy minutes of this song it seems an apt moniker. When the shoegaze roar begins, though, the distortion's volume will wake you right up.
Caroline Rose – Getting to Me

Caroline Rose lives in Brooklyn now, but we'll grandfather her in because this song was inspired by her time in Vermont. She told Paste: "I remember walking down the street during a Vermont winter, seeing couples lining the entire block, walking hand in hand under the Christmas lights. I popped into a restaurant and went straight to the counter. For anyone who spends a lot of time alone, counters feel like they were designed for us so that waitresses don't have to discard a setting at a table set for two. When you're already feeling like an outsider, you really start to notice things like that, things in even numbers designed for couples. The song is filled with references to feeling like an outsider."
Cole Davidson – Columbus: Americana pt. 2

I loved Cole Davidson's acousti-funk trio Navytrain. Sadly, they broke up after one EP, but the good news is his first few solo songs continue in that same vein. His sound brings to mind bands that probably aren't cool to be associated with, so I'll censor them so as to not mess up his SEO: D*spatch, D*ve M*tthews (specifically his duo work with guitar-god sideman Tim Reynolds, whose name needs no asterisk-ing). José González might be a more hipster-acceptable comparison point. Davidson just released a great new single "Last Lifetime," but I prefer this live video for another new track since you can see his guitar picking up close.
Ellen Degenerates – Greep

I got kind of a general krautrock vibe from "Greep," but singer Mitchell Parrish told me the vibe was much more specific (and recent): Parquet Courts' 2016 album Human Performance. He says: "I really wanted to write a groovy tune that reflected some of my favorite aspects of that band & record (I think I even named the voice memo "parkee kertz" or something like that). It came together really quickly." Lyrically, he adds, "it's meant to be a smattering of absurdity. Taken as a whole it's very surrealist, almost comical, but if you drill down into each stanza, there is a very specific kernel of reality that I'm referencing. I like that because it allows me to embed my own truth into the song without telling someone else how to interpret it." [He won't even tell me what a "greep" is!]
Eve Beglarian – Did He Promise You Tomorrow?

On September 2, 2009, the New York Times published an article titled: "Composer Finds a Muse in the Mississippi." When, three years later, experimental composer Eve Beglarian released the first installment of songs inspired by her kayak trip down the Mississippi River's entire 2,300 miles, the Times added "Ms. Beglarian's earnest new Americana song cycle captures those swift currents as vividly as Mark Twain did." It's been six more years now, and the muse clearly remains strong: she just released the third volume of her Songs from the River Project series.
Keith Murphy – Land of Fish and Seals

I owe Keith Murphy an apology. When I came across his great new album Land of Fish and Seals, I wondered if he had used Auto-Tune. Not because he sings in tune (though he does), but because certain lines jump abruptly between notes the way they do when a producer uses a too-heavy Auto-Tune hand. The idea is not as impossible as you might think. Artists of all genres use Auto-Tune subtly enough that you wouldn't notice; it's not just T-Pain and Cher going overboard. So I went to the tape. A live video, specifically, to see if those unnatural-sounding jumps were something his voice can actually produce. And holy moly, it sure can. Sorry for doubting you, Keith.
He explained in an email that his lilting vocal style is inspired specifically from the traditional styles of Newfoundland, Quebec and Ireland. And "traditional" is the key word here; he calls a fifty-year old Bob Dylan song he covers on the new album "by far the most 'contemporary' song I have ever done." The album works so well as a complete set it's hard to pull out one song, but the opening track, a 19th-century poem he set to music, is what first grabbed me so we'll go with that.
King Tuff – Psycho Star

King Tuff typically gets pegged as a garage-rock revivalist (he used to work with Ty Segall, after all), but his new single owes just as much to a more surprising genre: disco. It's a warped form of pop, true, psychedelic and twisted. But still poppy. The music video ends with a big dance number – and it doesn't feel ironic.
Noah Lockhart – In Sickness

Remember Explosions in the Sky and Godspeed You! Black Emperor? I know, both bands are still around. But there was a moment a decade or so back where their sort of droning, instrumental post-rock was very much in vogue. Noah Lockhart's track "In Sickness" falls into that camp, grooving and meandering, calm and quiet up until the moment everything explodes into noisy chaos.
Portraits of Sawyer – Roll My Number

The title instantly brought to mind Neil Young's "Roll Another Number." Musically, the comparison works too. Neil-wise, though, the duo of Ben Wiggins and and Adam Garcia are more laid-back Harvest than wigged-out Tonight's the Night.
Princess Nostalgia – All It Takes

Nineteen-year old singer, songwriter, and producer Lilian Traviato seems a little young for nostalgia. And it's a misleading moniker too; her music is nothing if not forward-thinking. She combines samples, synths, and a serious dose of pop smarts in songs she writes and records entirely herself. "I would love to have real instruments and to connect with people… but I love not answering to anyone," she says in a great recent Seven Days profile. She seems to be taking baby steps down that path though; her new single is a collaboration with Pittsburgh producer Hank the Businessman.
Sad Pie – Honda CR​-​V

Angular and odd, Sad Pie takes cues from Gang of Four and Wire on their debut EP Vermont (good title). The song "Honda CR​-​V" is about exactly what it sounds like. They write: "This is the big one boys, the one we have all been waiting for. 2 years in the making to bring your a timeless tale about the greatest car man has ever made. If we are able to capture even a small portion of what makes this car so great then we have done our job."
If you missed it, here's our Best Vermont Songs of 2017 post.