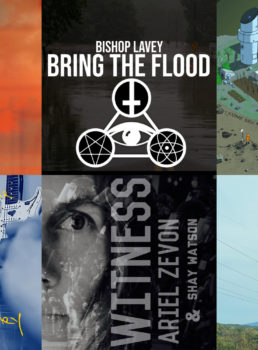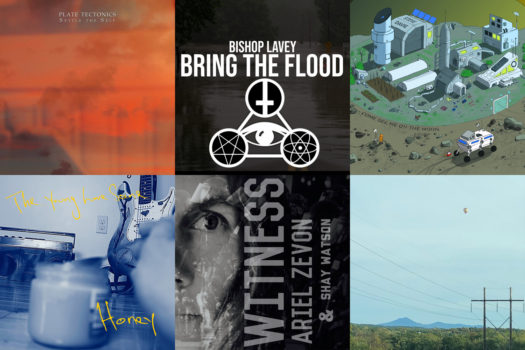 Ariel Zevon – Witness

Before YouTube will let you play "Witness," it flashes an ominous black warning about how the video may be inappropriate for some users. Its a misleading label that makes it seem like it's got nudity or something offensive. To be sure, the content in the video is offensive – in the sense of it should offend anyone to see police acting this way. But knowing it is happening is a civic duty. Zevon has accompanied the upsetting footage with a moving new protest song, doing her bit to fight the power.
Bad Rat? – Paper Planes

"All I wanna do is blam blam blam blam…" Wait, sorry, that's a different "Paper Planes." Bad Rat's song of the same title doesn't contain a Clash sample, but, in its louder moments, does sound more Clash-y than M.I.A.
Bishop LaVey – Bring the Flood

Vermont singer-songwriter Kane Sweeney makes folk music with a healthy dose of metal influence ("doom-folk" is his genre label of choice). On "Bring the Flood," he incorporates a few new sounds. I'd thought it might be a horn section on the chorus, but he informs me that low blare is a synth, not a sax. Still, he's pushing the limits of his invented genre. What hasn't changed: Sweeney's Howlin'-Wolf-meets-Satan guttural holler of a voice.
Bull's Head – Hey Old Boy

I don't know what Andy Samara means by "Simple days are gonna kill ya," but the resigned way he sings it – and everything else on this mellow, washed out song – says it all. The poetically obscure lyrics, what few there are, evoke more than they explain. This one's all about the vibe.
Fuzzy Bones – Stay Up North
Hidden is an album about elves. Okay, that's a massive oversimplification. The album's more nuanced origin story is that Fuzzy Bones' Jake Wright learned about Iceland's traditional huldufólk or "hidden people" and compared that to sometimes feeling like a hidden person himself. But isn't it more fun to just say the whole thing's about elves? At any rate, Hidden came out in the spring, but this music video just dropped. It echoes an old VHS home movie, and the washed-out song matches that mood.
G.E. Peters – Airglow

Recording under the name Ghost Weapons, Gary Peters recorded my favorite song of 2017, the thundering post-punk jam "Auroras." He's lain low since, but finally returns with a new moniker, G.E. Peters. Post-punk remains an influence, but at a lower volume, mixing more with pop, electronic, and indie-rock sounds. He even goes instrumental on "Airglow," shoegazey guitars crunching alongside delicate piano lines.
Jer Coons ft. PREECE & Learic – Sleeping On My Own

The last time he performed under his own name, Jer Coons was a Bieber-haired singer strumming ukuleles and covering Katy Perry (pretty well too!). In retrospect, it's funny to read decade-old YouTube comments on that cover imploring the formerly fresh-faced young man to shave off his wisp of a beard. He didn't. The beard's grown about a foot since then, and his sound in the intervening decade has changed just as dramatically. His first solo song since 2010 brings in Bad Religion and a guest rapper. "Solo" is misleading though; it's his first in years with his own name on it, but he still gets by with a little help from his friends, in this case drummer/guitarist Sean Preece and rapper Learic.
Plastique Mammals – And I Fell Back In My Chair!

When you title your debut album The Best Of, you've set a high bar. But instrumental duo Plastique Mammals cleared it on a subsequent EP and assorted singles. Sadly, The Best Of may indeed turn out to be largely "the best of" by default – it will end up containing most of the band's recorded material, since they're packing it in before releasing a second album. But, on one final single dug out from the vaults, they say goodbye on a high note.
Plate Tectonics – Everybody Knows

Slinkys has never sound as ominous as they do on Plate Tectonics's "Everybody Knows," which morphs the once-upiquitous Slinky jingle to something dark and horrifying.
Steve Davie – My Neanderthal Kin

If Pete Seeger sang a children's song about caveman, this ode to evolution's winners and losers would be it. Props for working science-class phrases like "homo sapiens" and "divergent species" into a lyric. It's Bill Nye at Newport Folk Fest. Charming, and educational too.
The Young Love Scene – Honey

The dream of the '90s is alive in The Young Love Scene's "Honey." Shoegaze with a side of guitar theatrics – think My Bloody Valentine with a J Mascis guest appearance.