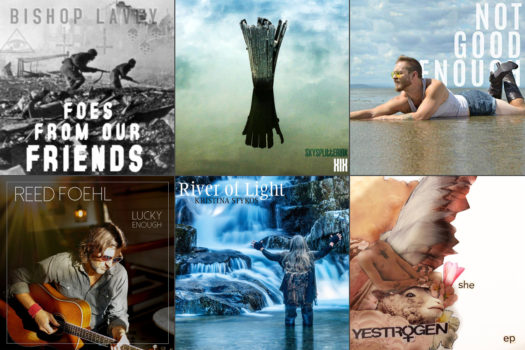 Adaline – Genese's Song

"Genese's Song" sounds like a Simon & Garfunkel tune recorded on the Mountain Goat's early tape deck. Like Adaline Bancroft's entire album, there's a hiss and fuzz (the songs were indeed recorded on a four-track tape machine) that adds a haunting distance from the music. It feels like unearthing a dusty old recording, weathered with time, but with the tenderness and beauty shining through the decay. Fellow folkie Eric George joins on upright bass for this song, though that's an instrument the tape recorder can't really capture.
Bishop LaVey – Foes From Our Friends

Bishop LaVey dubs himself "Doom-Folk-Punk," a label that's both clever branding and also pretty damn accurate. Like Frank Turner at his loudest, or an acoustic performance by Bad Religion, Kane Patrick Sweeney doesn't let "acoustic" mean "soft."
Chris Weisman – I'm Lo-Fi

Extremely prolific singer-songwriter Chris Weisman titled a song on his 30-track new album "I'm Lo-Fi." Very to-the-point. It serves as sort of a statement of purpose. As always, he delivers beautiful melodies with minimal instrumentation. His new album reminds me of the so-called Esher Demos on the recent White Album deluxe addition, casual and ramshackle home recordings of rock-solid songs. No demoes here though; this is it. Like with the Beatles, there's humor aplenty. You just have to lean way in to hear it.
Eoin Noonan – Calling Me Names

Singer-songwriters Eoin Noonan and David Anderson did their time in a variety of alt-country bands over the past couple decades, but their new single together – the first in some time – ditches the acoustic guitars for a harder edge. Post-punk riffs lead into alt-rock choruses on "Calling Me Names," with a touch of catchy backing vocals adding an element of sweetness. They pack a dozen different hooks into the three minutes. Hopefully this one-off marks the start of a creative rebirth.
Evergreen Avenue – Fear of Hell

There aren't songs on Alec Critten's new minimal ambient album, as much as moods. I like this mood particularly.
GOOD WTHR – Make Me Feel

Newish hip-hop duo GOOD WHTR kicked the year off on January 1st with a instantly catchy single (props to the uncredited hook singer) that recalls The Aztext's "Everyday Summer," one my favorite songs of 2018, which was made by some of the same people.
Kristina Stykos – River of Light

Kristina Stykos wears many hats at her rural recording studio: Songwriter, producer, engineer, landscaper, and general Jill of all trades. She's recorded several artists who've graced these proverbial pages, so no surprise her self-produced new album River of Light sounds superb, from the killer band she employs (special shoutout to Val McCallum's guitar solos) to her husky voice, the result of losing it entirely for a couple years (like John Prine, she turns an impediment into a strength). She writes songs that earn the production too, as on this title track, a song both lyrically wise and musically arresting.
The Pilgrims – Fav New Kid

Christmas Eve is maybe not the best time to drop a new music video, but garage-rockers the Pilgrims have never followed any drummer but their own. The band blends a super goofy sense of humor with an aptitude for crunchy powerpop hooks on all their songs, and adds a new layer here: backing singers.
Reed Foehl – Stealing Starlight

Songwriting veteran Reed Foehl has had a couple years of geographic instability. After living in Colorado for almost two decades, he planned a big move to Nashville in 2017, to capitalize on new opportunities opening up after country icon Lee Ann Womack recorded his song. On his drive down, though, his mother called. She had lymphoma, and needed him at home in Massachusetts. He turned around, and spent the next year and half there caring for her. After she passed, he headed to Austin to record the songs he'd written during that time with Band of Heathens, then moved to a barn in the tiny town of Pownal, Vermont. It's a stark and moving journey, reflected in the songs on his upcoming fifth album Lucky Enough.
Roost – The Ball

Groove dance-rock with elements of post-punk. Think Kraftwerk meets Devo meets The Residents. Also, best Bandcamp bio of the month: "Roost is like finding an old pair of rollerblades in the closet… tossing em on and boogyin on downtown to the laundromat, next to the graveyard, to pick up your clothes you forgot the other day. Then on a joyous afternoon ride home you spot Eugene at the 'ole full service gas station and stop to smoke a few smokes and talk about things that just don't matter."
SkySplitterInk ft. DJ Kanga – Triage

Gotta appreciate a track that adds a feature credit just for "scratches." Although, just is perhaps the wrong word, as DJ Kanga's scratches form the backbone on one of the highlights of SkySplitterInk's fascinating instrumental hip-hop album. So much that gets billed as "instrumental hip-hop" are really just beat tapes – SoundCloud producers throwing out ideas hoping for an MC to complete them. The songs are incomplete, and sound like it. SkySplitterInk, by contrast, build a fully formed product on their instrumental album XIX. Not only that, he plays all the instruments – yes, real instruments – himself. Come for the scratching, stay for everything else.
Will Stamp – Not Good Enough

Pop-country crooner Will Stamp adds a welcome element of Stax soul on the second single from his upcoming album. This slow-burn ballad doesn't skimp on the production (how often do you hear xylophone in the mix?), and the backing singers push it over the top. Bonus points for Will's quick Elvis homage when he nears the title phrase.
Yestrogen – Someone Else

A lo-fi garage rock take on girl group music has been in vogue for a few years, from Shannon and the Clams to Hunx and His Punx. Yestrogen (great name) enter the arena strong on this track from their debut She EP. With a whole lot glossier production, this could be a Marvelettes song in the 1960s.