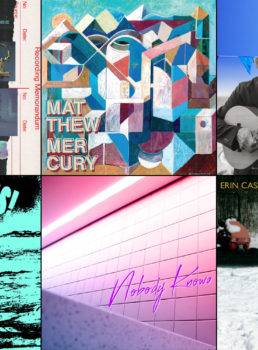 Abby Sherman – Dreamcatcher

Abby Sherman released one of 2018's best folk songs with "Wanting to Run," and she's returned with a catchy new single. Mandolin features prominently, joining her vocals to front a tight roots band on a song about looking back and accepting one's own history.
Andy Harrington – Potato Eaters, A Play, Act I, Scene II

Picking a "song" to highlight from Andy Harrington's new album is tricky because there aren't really "songs." As he notes on CDBaby, it's more of a radio play with music than any sort of traditional album. Inspired by Van Gogh's Potato Eaters painting, the aptly-titled Potato Eaters, A Play mixes poetry, prose, narration, and stage directions in with some beautiful and inventive music. It's a lot to wrap one's head around, and part of me wishes he'd release the music as a stand-alone album. But maybe that defeats the purpose of this ambitious production. (That CDBaby link includes the written out script, which proves helpful in following along.)
Be-er – He Said, She Said

To quote the poet Fred Durst: "It's all about the he said, she said bullshit." Thankfully, there's now a much better song (low bar) about said bullshit. Rock quartet Be-er – which means "people who be" in addition to the obvious pun – indulges in some jammier tendencies elsewhere on their self-titled debut album, but on "He Said, She Said" keep it tight for a grungy power-pop holler.
cordless – All Your Faces
The first two songs of Midwest-Vermont transplants Maria Bobbitt-Chertock and Noah Sauer are immensely appealing. Poppy in a removed way – happy tenth birthday, chillwave! – they present sonic twists and turns, a lot of ideas in a few minutes. Bobbitt-Chertock's vocals channel Annie Lennox over backing that veers from dream-pop to dream-grunge (a genre they may have invented).
Elder Orange feat. Adam Turner – Daybreak

I don't listen to much electronic music, but a few years ago I discovered the mesmerizing 13-minute track "Matthew and Toby" by Rocketnumbernine. The combination of synthesized electronics with live human drumming proved immensely appealing. Elder Orange's new song with drummer Adam Turner offers a similar juxtaposition of men meeting machines. The machines here adopt a more subdued approach than on the Rocketnumbernine song, though; other than some periodic synthesizer rising to the surface, this collaboration leans closer to jazz.
Erin Cassels-Brown – Classic Records

Erin Cassels-Brown's 2017 debut EP Northern Lights, Vol. 1 feature four quiet singer-songwriter ballads followed by a single loud rocker. Two years later, the track that then seemed like an outlier turned out to point the way forward for him. Though it's still just his name on the cover, Dreamin' on Overdrive presents a proper band album of full-throated roots-rock -emphasis on the rock. From barrelhouse piano on "No Good Man" to the shred-your-voice chorus of "Classic Records," Cassels-Brown channels various facets of The Band, putting his quiet folkie side square in the rearview.
Ernest – Little Things

Singer-songwriter Mark Daly's new project Ernest announced itself with the pop banger "Autotune." But as he said at the time, there was another side to his debut record I'm Gonna Do It (Anyway). The second half of this double album strips things down from the dance jams, returning closer to the folk-rock sound he'd first done with his first band Chamberlain. "Little Things" come from that second half – comparatively calm, but hardly a solo folk singer strummin' away either.
He describes the album's duality in an email: "Over the last two years I've experienced so many ups and downs. To the joyous elation and love I've experienced with my son and becoming a father, to getting married. To the depths of anxiety, fear and doubt from breaking up [popular dance-pop band] Madaila and letting so many people down. I think there are displays of this all over the record. There are sad songs where I have no answers. There are happy songs where it seems I have everything figured out. It's been a journey and I've just tried to capture it all and write it all down. Writing songs and pouring out my emotions right into them has kept me afloat."
Ian Steinberg – Guidance

Folk-pop singer-songwriter Ian Steinberg gets personal on his debut album. Guidance centers around mental health, with a sonic arc tracing both his descent into and rise out of depression. It's heavy stuff, and powerfully told. But the album isn't the downer the description may imply. Winsome melodies and intricate arrangements lift the songs up high, so even when things get dark, there's light on the horizon.
Matthew Mercury – Contessa

"I am the worst singer in the band," Matthew Mercury's Ezra Oklan recently told Seven Days. He is – as you may have guessed by my mentioning it – the band's singer. And he undersells himself. Though perhaps his low croon wouldn't work in other genres, it perfectly fits this band's post-punk rumbles. A high point of the band's self-titled debut, "Contessa" piles killer vocal hooks and inscrutable lyrics atop pounding drums and an insistent bass line.
Michael Roberts – Jolene

No, this ain't Dolly's begging Jolene not to take her man. In Michael Roberts' song, some other man already took Jolene. Quite a while ago, from the sound of it. This regret-filled winter lament gets lifted by a perky horn section in a high point of Roberts' overall excellent debut solo album.
The Renegade Groove – Nobody Knows

Posting this song a few days ago, indie music blog Earmilk called The Renegade Groove "Vermont's best kept secret." "Nobody Knows" follows the band's debut, which channels 1980s pop music with soul and a lot of humor. "Nobody Knows" is less self-consciously jokey, and a big step in their songwriting. The band gets tagged as neo-soul revivalists, but "Nobody Knows" is the sound of looking forward, not back.
Troy Millette – Enter Sandman (Metallica cover)

Troy says: "This was a cover I started doing back in like 2014 when I was first starting to really gig and grind regularly in Burlington. We used to cover 'Jumper' by Third Eye Blind and during a live show I did a finger-picked bridge and sang the first verse of 'Enter Sandman' over it, and it was just a short, quirky part of the live show for a bit, and then it just got lost. I did a Robot Dog session for Tim Lewis and WBKM and Tim made a joke about how only metal covers were allowed, and I jumped back into this tune. A week or so later I went back to Robot Dog Studios and cut a quick one-take version to hold people over for the EP release, which then ended up happening before the cover was released! I wanted it to be as much of a living-room performance as we could capture, and [engineer Ryan Cohen] did a great job of capturing that vibe!"
The Wet Ones – Articulate Frankenstein
The Wet Ones' album cover features a tombstone in the ocean, which is a fitting image. This trio blends surf-rock with a heavy dose of goth and doom. Think The Ventures meeting The Cramps. If Lenny Kaye ever curates an aquatic sequel to his classic garage-rock comp Nuggets (Seashells, perhaps?), the Wet Ones would fit right in.