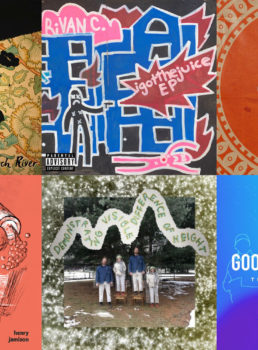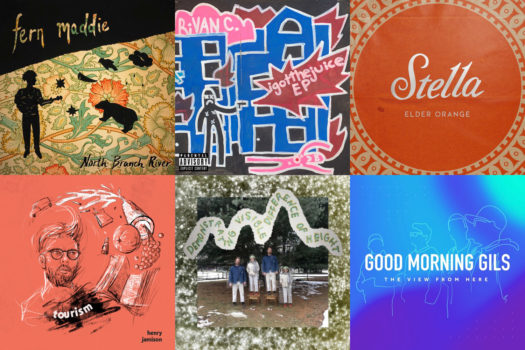 Babehoven – Demonstrating Visible Difference of Height
Babehoven weren't a Vermont band for very long. Singer Maya Bon and partner/bandmate Ryan Albert moved to the tiny town of Arlington, where he's from, to record this EP, then promptly decamped for Philadelphia. They've also logged time in Los Angeles and Portland. But, even if they weren't in the state for very long, Vermont would do well to embrace the wonderful dream-pop EP they recorded while here.
Bishop Lavey – Bring the Flood
Bishop Lavey's bio says he has "a style unlike his peers in the Folk scene." That's an understatement. A song like "Set Fire to Our Homes" sounds like Motörhead if some roadies swapped out all their instruments for acoustic guitars. Even his quieter songs are only folky in a American-gothic sort of way, like Howlin' Wolf bellowing a murder ballad.
Dan Johnson – Trucks and Trains, Bad Luck and Blues
Dan Johnson's songs are as frills-free as they come. Heavily-produced, in a Johnson song, means maybe there's a second guitar accompanying his acoustic. You have to have rock-solid songs to pull off delivering them in such a simple package. Johnson does. When that second guitar does come in – also quiet, but distorted as hell – it's just the cherry on top of an already excellent sundae.
Elder Orange – Stella
Matt Scott aka Elder Orange wrote his new EP Stella inspired by his '71 Stella parlor acoustic guitar. But despite the acoustic guitar-influence, singer-songwriter music this isn't. Scott's a producer and composer who builds immersive instrumental soundscapes that incorporate the titular guitar here and there, but are not beholden to it. He says, "Stella is a blend of a lot of my favorite sounds; dusty 60's funk rock laced with boom-bap alt-latin vibes and gritty electro-fusion."
Fern Maddie – North Branch River
The fact that Fern Maddie lives in, as her Bandcamp bio puts it, "the wild woods of northern Vermont" will not surprise anyone listening to this. "Wild woods" is certainly the vibe in her brand of old weird Americana. Driven primarily by her angelic voice and secondarily by her expressive banjo phrases, she sings songs of selkies ("Two Women") and Medieval kingdoms ("The Elf Knight"). Modern these subjects are not, but she makes them timeless.
Good Morning Gils – The View from Here
Though they have a song on their EP called "September Vibe," The View from Here mostly evokes summer. Echoey guitars and the low level of haze settling over the proceedings recall Surfer Blood and The Pains of Being Pure at Heart. They can rock out pretty hard when the moment calls for it, but even at its highest-energy, The View From Here sounds like hanging at the beach and bumming around with your friends in what Neon Indian memorably termed a "deadbeat summer."
Henry Jamison – Tourism
Every song on Henry Jamison's EP features a different artist, from Grizzly Bear's Ed Droste to Portland sister trio Joseph. Rather than twisting himself to fit their various sonic worlds, though, he invites them into his. They add slightly different textures to his sound, but any of the 8.2 million people who listened to Jamison on Spotify this year will find much that's familiar.
Jewelry Company – Cheap Drugs
The band's name is Jewelry Company and the album cover is a bunch of pills. That pairing – living the high life on the outside while being torn-up on the inside – echoes The Weeknd or Drake, and indeed those are two obvious touchstones on this EP. It's hip-hop in the broadest sense, sung as often as rapped, but over lusher beats than Drake might use.
Jo Bled – The Accumulation and The Radiate
I realize that, to many of us, the phrase "28 minute drum solo" sounds like an absolute nightmare. But Jo Bled, aka jazz drummer JB Ledoux, tells a whole story through his playing on The Accumulation and The Radiate. I don't know how much of this is improvised and how much is composed, but either way it is a percussive tour de force.
Love and Japan – Tears for Vanishing Ways
Love and Japan's new EP sounds like the lighter and darker sides of '80s pop blended together – Men at Work meets Joy Division. Even the song titles point to that influence. I don't know what "Spider Rain" is, but I'm frankly shocked it's not already the title of a Cure song. And "Cold War" seems like it popped straight from Stereogum's "38 Essential '80s Songs About Nuclear Anxiety."
Madaila – West
Mark Daly started his career in the successful Americana band Chamberlin, then pivoted a few years later to the dancier project Madaila. On West, he kept the name of the latter but returned to the more folk-rock sound of the former. One thing hasn't changed: His ear for a catchy pop hook. Or his falsetto.
Michael Chinworth – Songs for Plays
Songs for Plays is the most literally-titled EP on this list. Chinworth originally wrote these songs for several productions by playwright Quincy Long (one of his plays was directed by William H. Macy). Long wrote the lyrics, Chinworth the music. Chinworth re-recorded a few of them for his band, and not knowing their original context doesn't matter a bit.
Rivan C. – igotthejuice
College-student rapper Rivan C. claims extremely disparate influences from Sam Cooke to Lil Uzi Vert, so no surprise he works in shoutouts to Rolling Stones and Elvis songs his first album Teenage Apollo Vol. 2 (though it at times sounded more like J-Kwonn's "Tipsy" than any classic rock). He wasted no time releasing a follow-up EP igotthejuice, which draws from an even wider array of influences.
S.T.L.A. – KONA DECOY
The album art looks like Blair Witch Project meets The X-Files, and, if you think that's creepy, wait until you hear the music. Experimental musician Henry Birdsey works like an electronic producer, but with analog instruments, warping and manipulating lap steel, pedal steel, microtonal organ, fiddle, hammered dulcimer. None of them sound remotely like what you'd expect them to, but it creates a magnetic and unnerving stew.
Shore Rites – Shore Rites
If you're gonna be a bassist, be a bassist in a post-punk band. Few genres as regularly let their bassists take center stage. The fact that the bassist is also the singer and songwriter will not surprise you. Shore Rites lean as dream-pop as they do post-punk at times though, and their excellent debut EP blends the two genres. I don't know whether the "live forever" that opens "Tell Me Not" is a deliberate Oasis nod, but, buried beneath the haze, you can hear some Britpop in there too.
Click here to see the Best Vermont Songs of 2020 and click here for the best Vermont Albums!