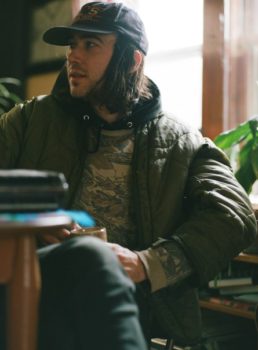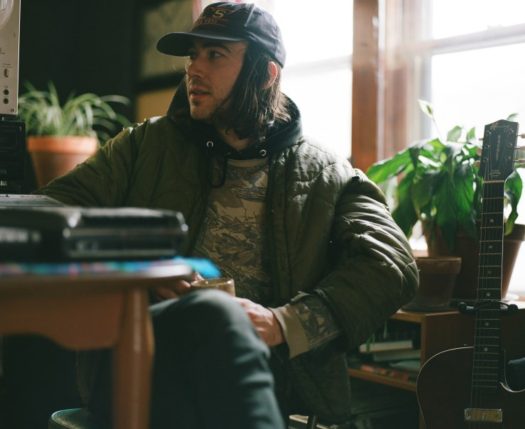 NNA Tapes is probably Vermont's best-known record label, an über-hip curator that has helped spearhead the recent cassette revival. Their catalog of experimentally-minded musicians extends from the out-there to the way-out-there. And their latest signing, fellow Vermonter Wren Kitz, can operate in both modes.
His first release with the label, Dancing on Soda Lake (out June 2), counts as relatively conventional – for him. Unlike some of his more experimental releases of ambient rumbles or Eraserhead nightmares, Dancing on Soda Lake is reasonably song-based. But that doesn't mean it isn't weird.
The debut single, "Haunted Hole" is at first glance a pretty and ethereal acoustic ballad. But if you listen closely, you discern murmurings underneath the surface. The warbled sounds are taped samples of Kitz reading his own journal entries, which he pitched around to create texture (and make the readings more atmospheric than actually decipherable). It's his latest use of a massive archives of self-taped samples, first seen on his first quote-on-quote "proper" album, 2015's For Evelyn, which featured homemade recordings of his grandmother's friend reading a letter and a choir he taped outside a church.
The samples are not the only unexpected thing about "Haunted Hole." He usually tells people it is just about "crying septic sludge," but he emailed us the full origin story:
The song Haunted Hole came from a a pretty strange time in my life where I was dealing with quite a lot of physical pain. Pain in my body that really took the wind out of my sails ya know? Around the time I wrote the song I was recovering from a surgery and living on a small Island off the coast of New Hampshire called Star Island. My work there then was improving/rebuilding sewer lines around the Island. I spent many summers working at the Island's waste water treatment facility as a lab technician and operator. During those years I developed a close relationship to the full cycle of waste. A truly beautiful process. I was blessed to be one with the Star Island Sewer…

I suppose Haunted Hole was really an expression of the limitations of the body and dealing with physical pain while also relating directly to my time in the dark salty depths of my work at a small island's waste water treatment facility. The dark holes I used to find myself in under the slanty Oceanic Hotel built in the early 1900's… Those days will always be part of who I am… Mix all these things and you get my song Haunted Hole…
Listen to "Haunted Hole" below, then preorder the full album on Bandcamp (including, if you like, as a cassette).
Click here to discover more of the best new singer-songwriter music from Vermont.