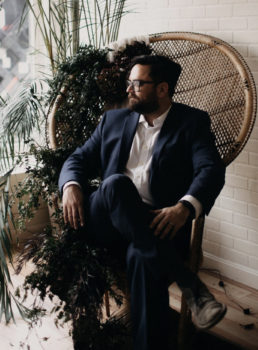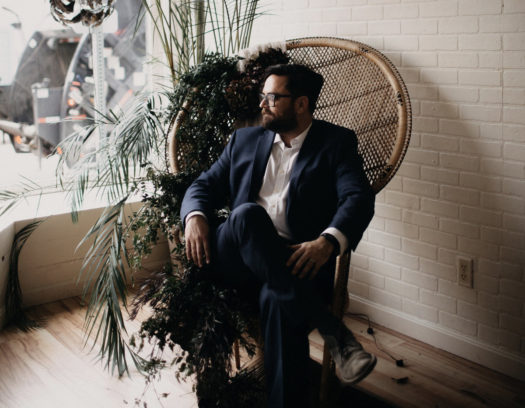 Don't call Hallowell's debut album "Christian rock."
For one, it's not really rock (though, like "indie rock," these days the term "Christian rock" encompasses an array of genres). But more importantly, the label pigeonholes the music. Joseph Pensak, the man behind Hallowell, may be a a Presbyterian pastor singing spiritual songs, but his music wouldn't really fit on any modern CCM playlist. He says that, though he likes some of the music contained within, he disdains reductively labeling a genre simply "Christian": "It makes my skin crawl and sadly some amazing bands got unhelpfully placed in that genre and thus didn't get heard by the much larger audience they deserved. As Sufjan said somewhere, 'Christian' is a terrible adjective."
Sufjan Stevens is the perfect comparison point on a couple levels. Like Sufjan, Pensak is a Christian and a musician, but not a "Christian musician" per se. They're two things that inform each other, not one term that constricts creativity. Pensak prefers to call Hallowell "modern sacred music." It channels beloved moments in popular music where the sacred and secular blur (he cites Al Green's "Take Me to the River" as an example).
Sonically, Hallowell's self-titled album immediately recalls early Sufjan as well. Its beautiful melodies get augmented by delicate baroque arrangements, assisted by a roster 20 musicians deep, including strings, horns and vocals from, among others, blog favorites Cricket Blue. A track like opener "The Wreath" envelops you in the music before you even notice the lyrics – which, as it turn out, demand some attention, retracing in six minutes the story from Norwegian author Sigrid Undset's 1000+ page book Kristin Lavransdatter.
And just as Stevens has alternated his own songwriting output with ten – yes, ten – Christmas albums, Pensak mixes his own compositions with new arrangements of centuries-old hymns. Though a title like "Pass Me Not, O Gentle Savior" might alert even nonbelievers that this is not the most contemporary composition, Pensak makes it new. He rewrites the melody so dramatically that, with different lyrics it could be a Lumineers song, a far cry from any gospel version I've heard (or Bob Dylan's cover either).
The most direct connection between Pensak and Sufjan comes in the form of shared mentors Daniel and Elin Smith. The leader of the adventurous and experimental band Danielson, Daniel Smith produced Stevens' seminal Seven Swans album, and released it on his label Sounds Familyre. He's releasing Hallowell's album on his new label Great Comfort Records, which Daniel and Elin run with Daniel's parents.
"I honestly can't think of another label that does what they do," Pensak says. "They are tiny and are truly a family-run operation. Daniel and [his father] Lenny sort of 'mentored' Sufjan, who was a sometimes member of Danielson, and you can see the musical lineage if you compare albums like Michigan and Illinois to Danielson's Fetch the Compass Kids. Danielson is seriously one of the weirdest bands of all time and I adore all of it and admire so much how Daniel could frame devotional lyrics in such an artistically challenging and unique sound. It all comes from a 100% genuine place and I'm so honored to be doing this with them."
A decade ago, the label released Pensak's first foray into music, the compilation Come O Spirit!: Anthology Of Hymns And Spiritual Songs. Inspired by archivist Harry Smith's early folk music collections, Come O Spirit brought together a number of artists with similarly arm's-length relationships with the CCM scene, including Pedro the Lion's David Bazan, Damien Jurado, Sixpence None the Richer's Leigh Nash, and J. Tillman (better known now as Father John Misty) to sing songs of praise. Pensak co-wrote three of the songs, sang on one, and helped coordinate behind the scenes through his production company Bifrost Arts.
Pensak has a couple other notable six-degrees-of-separation blushes with celebrity. For one, a college bandmate co-wrote "High Horse," aka the best song on Kacey Musgraves' recent Grammy-winning album. But more importantly, François Clemmons – aka. Officer Clemmons, from Mister Rogers' Neighborhood – actually sings on Hallowell. The story behind that is so good I'll let Joseph tell it:
I wrote the song "Another World" as a tribute to my childhood heroes—Fred Rogers and François Clemmons, having no idea the documentary was about to come out and explode. Like so many people, I watched Mister Rogers' Neighborhood every day as a kid. I wrote to the Fred Rogers Company in Pittsburgh to get their permission to use the samples from the show. I was thrilled to get a "yes" from them, but it came with the caveat that I had to track down François personally and get his permission since his voice is in the sample too. At this point the documentary was out and I thought there was no way I was going to be able to get in touch with him. Turns out François was living just down the road in Middlebury! After touring the world singing opera, he taught at Middlebury College for 25 years and is now retired there. François was so enthusiastic about the song and he not only gave me permission to use the sample but also insisted he wanted to sing with me on it. So that was obviously such a dream, and to have François' voices from 1969 and 2019 blended together in one song is so special.
If Hallowell's debut album isn't Christian rock, what should you call it? Call it one of the year's best albums thus far. You can find it at Bandcamp.
Photo by Abigail Grey Photography
Check out more of the best new indie music from Vermont here.