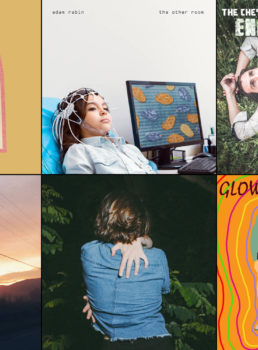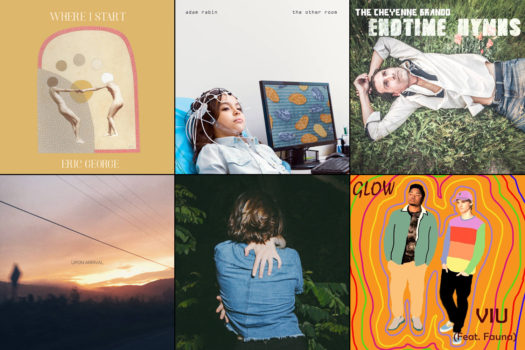 Adam Rabin – The Other Room

You're going to want to sing along to "The Other Room" after a listen or two – but I wouldn't. The sketches of plot offered sound like a sci-fi family dystopia, a Black Mirror episode for children.
The Cheyenne Brando – Samsonite

So thoroughly does Endtime Hymns evoke certain bands that one begins looking for echoes everywhere. Is the title "My Jean Sebring" a nod to David Bowie's "Jean Genie"? Does "Poisonhead" reference ABC's "Poison Arrow"? Was "Privacy of Lucy" inspired by The Cure's "Pictures of You"? Each connection a greater stretch than the last, and likely none intentional. Christian Hahn does explicitly cite the heyday of post-punk and new-wave in his bio though, and, sonically, the comparisons are everywhere. His next song might as well be titled "Bizarre Love Triangle Will Tear Us Apart."
Eric George – Where I Start

Eric George's Bandcamp bio describes him as "one of the most prolific folk musicians of the Northeast music scene," which seems an understatement. Where I Start will be his fourth full-length album in the last 18 months. And this isn't some vaporwave synth stuff that can be cranked out in an afternoon; George is a singer-songwriter of the old school, channelling Woody Guthrie (when he's not detouring into channeling Black Flag). While you wait for the full album to drop next month – and probably his next album a few months later – check out a new EP he curated with five killer New England songwriters collaborating, Singles Weekend Vol. 1.
Expected Guest – Here To Stay, Pt. 1

I first stumbled upon Logan Patnaude's music a couple years ago with a beautiful EP released under the name Dawnlander. It alternated vocal sections with long stretches of ambient guitar noise. With his new project Expected Guest, Patnaude ditches the vocal parts and goes all in on the ambient guitar. It's also entirely improvised – but don't confuse that for boring or uninspired. Upon Arrival meanders in the best way, layered with drones and field recordings to create a small sonic world. As with a lot of this sort of music, it's difficult to say "this one is the best song." So I just embedded the opening track, the first step in a walk meant to be taken in its entirety.
Francesca Blanchard – Baby

Like Justin Vernon before her, folk singer Francesca Blanchard puts down the acoustic guitar for a more ethereal pop sound on new single "Baby." Though, as a live video from last year shows, the song works pretty well on acoustic guitar too.
Learic & Es-K – B.P.

Thought Instruments is rapper Learic's second album of the year, and something tells us it won't be the last. Vermont alt-weekly Seven Days called him one of the most prolific musicians in the state…way back in 2014! He hasn't slowed down since, teaming up with producer Es-K for his latest. As he puts it on the lead single "B.P.," "I was made to take in all the words I've observed so I could write the dopest verse you've ever heard."
Marcie Hernandez – Light a Torch

Singer-songwriter Marcie Hernandez has been quietly putting demoes on Soundcloud the past couple years, and from the sound of her latest, it's past time to put out a proper record. This music-therapist-by-day channels her Puerto Rican heritage for a beautiful bi-lingual ballad with violin and box drum. She quotes the inscription on the Statue of Liberty for a pointed political message.
Matthew Saraca & John Townsend – Don't Listen to Your Heart

Is "Don't Listen to Your Heart" an answer song to Tom Petty? Presumably not, though I do like the idea of someone trying to start beef 41 years later. At any rate, Petty-wise the sound here leans more Wallflowers than You're Gonna Get It!: lovely Americana, with harmonies by Mary Patterson and the best use of a wood block I've heard in some time.
Moxie Shotgun – Fresh Shave

One of Weezer's greatest songs is their ode to baby bands "In the Garage." Thing is, though, their recording doesn't sound remotely like it was done in a garage. It was produced by Ric Ocasek, for god's sake! If Weezer had been an actual garage band, they would have sounded like Moxie Shotgun.
Peter Neri – The Sad, Sad Demise of the Underwood 5

I don't think I've ever heard a typewriter used as a song's percussion before, but it works perfectly on this number from Peter Neri's instrumental guitar album. A finger-picker in the John Fahey vein, Neri crafts short snatches of melody – no multi-part suites or extended excursions for him, a rarity in the solo-guitar world – into songs that rarely top three minutes.
The Red Newts – This Ain't No Love Song

Gotta love a band that shouts out Michael Hurley in their bio. The Red Newts do have a bit of that old-weird-Americana in their DNA, though packaged in a more accessible package of country-rock.
Ruth Garbus – Strash

Ruth Garbus' songs are hard to pin down. Her bio describes them as "folk-rock" which is as good as anything I guess, but "Strash" sounds like Paul Simon as produced by Aphex Twin. Björk flickers in and out, as does some of the freak-world-music sonics of her sister Merrill (of Tune-Yards). Hell, one of the synth sounds reminds me of a Blue Man Group CD I had as a kit. A lot to fit into one song, and it offers a lot to unpack and a new surprise on each listen.
Sad Turtle – He Is Risen and Appears on Toast

The song titles on Sad Turtle's 2016 debut were all Seinfeld references ("The Marble Rye," "Feats Of Strength," etc). But unlike rapper Wale's viral The Mixtape About Nothing the year prior, the songs weren't explicitly about Seinfeld. They weren't explicitly about anything, in fact – that's what happens when you're an entirely instrumental band. But don't think ambient or background music when I say "instrumental"; even without words, Sad Turtle demands attention. Their freewheeling but intricate constructions pull from those hyphenated rock genres like math- to post-. Though if they existed before the electrical guitar, one can easily imagine them slotting in as classical composers pushing the limits of the orchestra. Luckily, rock makes more accommodations for titles like "He Is Risen and Appears on Toast."
Viu ft. Fauna – Glow

When I stumbled upon Viu's first single in February, I couldn't figure out who the hell it was. Thankfully, by single number two, there's a bit more info. Viu is Aidan Warren, a longtime producer who in addition to releasing music is making beats for other singers and rappers. Now to figure out who Fauna is…
99 Neighbors – Fake Pods

On Monday, Warner Records and Chance the Rapper's manager announced they'd signed hop-hop collective 99 Neighbors. A day later, they released their first song on the new label. Zane Lowe premiered it on his Beats 1 radio show yesterday morning – one day on the label and they're already hitting the big time!