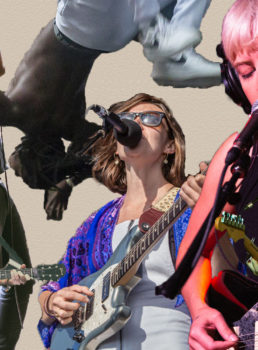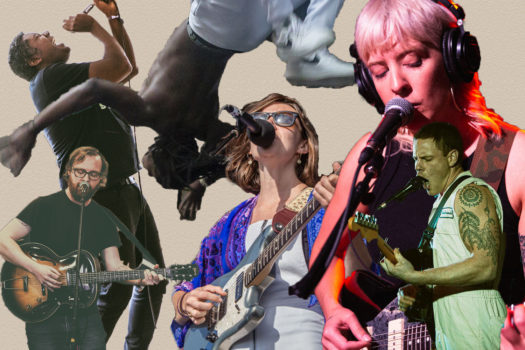 You don't need me to tell you that 2020 was a crummy year, for musicians especially. That certainly didn't stop the flow of great songs though. Artists channelled collective fear and frustrations in a variety of ways. One song on this list is literally titled "2020." Another complains about masks fogging up your glasses. Most, though, are not that literal. Some offer upbeat escapism; others complain about more personal problems than those in the news. They really only have one thing in common: I can't wait until I can see them performed live.
40. McAsh – Oi (Dang)
A few of these songs have Covid-19 echoes, but this one is less like an echo than someone shouting it directly in your ear. Jokes about bored Googling and supermarkets running out of supplies abound, but one line really sums everything up: "Goddamn you 2020!"
39. Eoin Noonan – Yesterday
This song shares a title with a Beatles song and quotes Meredith Brooks (inadvertently perhaps), but doesn't sound much like either. Noonan wrote on Bandcamp, "This song came out of thin air. It was beautiful but then it went away. This song came back months later and it was quickly recorded in a spare bedroom. Then the world got really crazy. That uneasiness somehow subconsciously seeped into this song. Real natural like."
38. Reid Parsons – Alone
"Alone" is a timelier song than Reid Parsons intended. Though the title screams "lockdown," she first began recording her "bristly, bluesy anthem of self-reliance" in January, and actually completed it just before quarantine began. That's probably why it has a killer band feel; they, all together, recorded a song about being alone. Sure enough, a couple weeks later, it felt like everyone was.
37. The Young Love Scene – Honey
The dream of the '90s is alive in The Young Love Scene's "Honey." Shoegaze with a side of guitar theatrics – think My Bloody Valentine with a J Mascis guest appearance.
36. Abby Sherman Band – The Road
"The Road" is the first song on Bandcamp that Vermont singer-songwriter Abby Sherman has billed as being by the "Abby Sherman Band." A minuscule rebranding, but one that feels significant. Whereas her best song last year was a stripped-down dirge, "The Road" features a muscular alt-country backing group giving her melody some heft. Special props to whoever played the country-Mark-Knopfler guitar solo.
35. GOOD WTHR x SkySplitterInk – Tell a Friend
It may be rap on Soundcloud, but GOOD WTHR is far from "Soundcloud rap." It hits harder, for one, drawing more from the aggressive energy of old-school MC's than the chemically-laid-back young guns. On their new single "Tell a Friend," producer SkySplitterInk gives rappers Pro and Kin a lilting beat to rhyme over while otherwise staying out of the way. There's some definite "if you like it, like and subscribe!" energy as they encourage listeners to spread the word about independent artists.
34. Guthrie Galileo – Repeat
It starts out sounding like music they might play at a massage place, but stay with it! Producer Guthrie Galileo, known around Vermont for falsetto skills so strong he fronts an Usher tribute group, dispenses with vocals entirely for an engaging instrumental that reminds me of Icelandic folk-electronica groups like Múm. Video comes with bonus weaving footage.
33. George Nostrand – A Million and One
This song's been kicking around for over twenty years. Nostrand says he first recorded it in 1996, shortly after a summer working on Martha's Vineyard: "I had just gotten off the boat and was planning on staying the summer and working there. I said something about playing the guitar and this guy quipped, 'You and a million other people on this island.' Being a brash 19 year-old at the time I responded, 'I guess now it's a million and one.'"
32. Kingfisher – Blue Skies
No, it's not a cover of the Irving Berlin song. Rock quartet Kingfisher deliver an original both memorable and meditative, jazz-piano flourishes laid atop dream-country (that's like dream-pop, but, you know). Their self-titled EP has tracks with more energy and tempo, but they do this sort of mellow reverie extremely well, and, right now, I'm in the mood for something soothing.
31. Miku Daza – Dolls
Miku Daza calls herself "the queen of nightmare pop." You get a taste of that in the single cover for "Dolls," which sounds at times like a punk band covering the Go-Go's. You get the full dose in a Lynchian live version.
30. Justin LaPoint – Wide Open Spaces
No, this isn't a Dixie Chicks cover. Sonically, though, it's close enough that I could imagine that trio doing a nice job with Justin LaPoint's quiet folk-country. Particularly on that infectious chorus, where it already boasts a Chicks-ready backing arrangement.
29. Moira Smiley ft. Sam Amidon – Days Of War
Former folkie Sam Amidon has gone over to the avant-garde jazz world on recent releases, but he dips back into his banjo-pluckin' past on Moira Smiley's new protest song, written with recent Vermont transplant Seamus Egan.
28. Lily Wade – I Don't Wanna Be 5teen
"I don't wanna be fifteen" goes the chorus and Lily Wade is in luck: She turned 16 a few days after it came out. Her influences, from Liz Phair to Babes in Toyland, speak to someone older. So does her talent.
27. Emily Dumas – It's a Wealth
Writing all these blurbs at year-end time is a daunting prospect, so, as regular readers might have noticed, I crib lines from my monthly song roundups when possible. All I wrote for this song back in May was "More folk songs should include jaunty trumpet solos." But I stand by it. More folk songs should include jaunty trumpet solos.
26. Willverine ft. Francesca Blanchard – Hope It All
"Synth-pop plus trumpet" used to be the extremely idiosyncratic sound of Will Andrews aka Willverine (it worked better than you'd think). He's broadened beyond that recently, and on his latest single teams up with Francesca Blanchard, another musician whose made a genre transition in recent years. When the trumpet does finally make its appearance in the last thirty seconds, it sounds more like a National-esque horn flourish than any sort of gimmick.
25. Levi Barrett – Thoughtless Word
Poetry buffs might recognize the lyrics; Barrett borrowed them from poet Olivia Ward Bush-Banks's poem "Regret." Barrett wrote, "when I read it, I felt that it was begging to be sung and accompanied with a solemn guitar part." His arrangement is very Simon and Garfunkel, except his voice is about an octave lower than Simon's (and about a dozen octaves lower than Artie's).
24. James and the Giant Sleep – My Friend the Apostate
Lotta Roald Dahl fans in Vermont, apparently – the aforementioned Couchsleepers recently changed their name from The Giant Peach. Christian James apparently doesn't fear the Dahl estate's litigious wrath, and more power to him (James and the Giant Sleep is a solid band name). This twisty rocker recalls any number of emo-adjacent bands on the Tooth & Nail roster in the '90s – plus they might be drop a word like "apostate" too. If Bandcamp is to be believed, it's only his second single. Off to one hell of a start.
23. Eastern Mountain Time – Dolores Park
On a recent Instagram live stream, Sean Hood's mom popped up in the comments requesting "the song about crying trains." That's as apt a description of "Dolores Park" as any (though it's also a song about crying moms). Inspired by a cross-country train ride he took only a few years ago, "Dolores Park" brings dose of gritty country-rock to the old genre of the train song. Singing Brakeman not included.
22. Lissa Schneckenburger – Labor On
The title and lyrics to "Labor On" sound like a Woody Guthrie song – maybe one of those hundreds of unrecorded lyrics people keep setting to music. But it's an original, and inspired by a more recent struggle: The 2019 protests at Merrimack Generating Station, the last large coal plant in New England. Though Schneckenburger's sound is nothing like Guthrie, the fight remains the same.
21. Madaila – 2020
"2020" is, admittedly, a slightly on-the-nose title for a song trying to sum up this garbage year. Surprisingly, a note of optimism shines through this charming heavily-harmonized folk-pop song. It makes you feel that a song called "2021" could, just maybe, be even more positive.
20. Rough Francis – Teen Zombies
Bandcamp says "Teen Zombies" was released in 1991. That's an error; it was 1981… I'm kidding about that last bit. It's new, like everything here. But the verses sound straight out of the post-punk playbook, bass-led with just a shimmer of guitar. Joy Division wouldn't have gotten so righteously loud on the chorus though.
19. Falgar – Ritos en la cueva
At first listen, you might think this was Gregorian chant music. But the songs are in Spanish, not Latin. And Falgar aka. Etienne Tel'uial brings in instruments and sounds you might hear in his native Puerto Rico, which contrast beautifully with the soaring cathedral melodies.
18. Guest Policy – IDontKnow
Elsewhere on their album Four Year Bend, Guest Policy delivers healthy doses of '90s-inflected alt-rock, but they veer into glitchy piano-tronica on "IDontKnow." Portishead and the xx both poke their way into this mesmerizingly strange little pop song. In fact, after writing that sentence a minute ago, I discovered the latter band's Jamie XX released a song with the exact same name – no spaces and all – the same wee. It's not the same song, but maybe there's some spiritual overlap.
17. Kris Gruen – Nothing In The World
Kris Gruen comes from rock and roll royalty; his dad is legendary photographer Bob Greun. That famous photo of Lennon, arms folded, with the New York City t-shirt? The one of Zeppelin standing in front of their plane? Both Bob Gruen. Kris's own music doesn't share much in common with his dad's '70s-rock compatriots too. The catchy "Nothing In The World" leans alt-country with a healthy dose of blues grit. He does nod to he heritage on a new cover though – of Johnny Thunders.
16. Dead Man from Mars – daBadBoy
Have you heard 100 gecs? If you have, you probably have a strong opinion about them. This buzzy duo's spastic 2019 debut often got tagged as the sound of the internet, all sorts of unrelated genres violently smashed together (they cite the "Hamster Dance" as a formative influence, which says it all). Dead Man From Mars' new EP Fruity has that same unhinged energy, at times sounding like a half dozen radio stations playing at the same time. I mean that as a good thing. Your mileage may vary.
15. Oldboys – Die to Defy
I don't know what "moon music" is – it appears to involve a lot of cello – but Oldboys' debut album stands just to the side of traditional bluegrass. Aforementioned cello adds a twist to the typical formula of fiddlin' and mandolinin' (of which there is still plenty).
14. Henry Jamison ft. Lady Lamb – Orchardist
The lyrics of "Orchardist" jump from Tennessee to Switzerland, but what Jamison does everywhere remains the same: walk around, mostly killing time before shows. "The walking is memorable (in that it's always somewhere new) but also fairly pointless (I'm not really going anywhere, just away from the van or the venue into some neighborhood or other)," he wrote for Consequence of Sound. "The aimlessness of it, coupled with the novelty, feels like a good symbol for my experience in tour-heavy years." So he wrote a song about it.
13. Phil Henry – Saturday Night At The Hot Sara
Phil Henry's new album Chasing Echoes leans Americana, but for "Saturday Night At The Hot Sara" he takes a swerve towards ragtime jazz. I even Googled to see whether "Hot Sara" was a venue in New Orleans. It's actually a hotel in Upstate New York apparently. Nevertheless, I expect to see a busker playing this in the French Quarter before long.
12. Ben Patton – What a Shame About Benjamin
The most meta song on this list, "What a Shame About Benjamin" finds a bunch of friends and gossips talking trash about the prolific singer-songwriter. Complaints range from the plausible (not accepting Facebook friend requests) to the far-fetched (going in and out of the looney bin). In the midst of all the hilarious self-deprecation, he gets in one nugget of promo: "I haven't heard his latest LP yet, but it's supposed to be great."
11. A2VT – You Ma Numba 1
This infectious love song doesn't hit as hard as some of the higher-energy songs on their great new album Twenty Infinity – early singles from which appeared on our last couple year-end lists too – but the joyous and insanely catchy chorus will burrow its way into your brain for days.
10. Clever Girls – Spark
Singer Miriam Bernardo's debut album has been a long time coming. In her many years performing around Vermont, she's connected with many of the local folk musicians, most notably recent Tony-winner Anaïs Mitchell. Mitchell even contributed a song to open Bernardo's album, the beautiful "I Got a Well." When they one day stage the Hadestown revival, this could fit right in.
9. Eben Ritchie – The Architects
Eben Ritchie says he aims to make music with an inherent optimism – a tough assignment in 2020. But you can hear that from the extremely infectious guitar hook that opens "The Architects." Every bit of it is catchy, from the vocals to the mid-song synth solo, but it's the guitar line I can't get out of my head.
8. BABEHOVEN – Asshole
Babehoven's dream-pop song sounds so pretty it takes you a few listens to notice the lyrics. "In the morning I want to see your asshole"? Weird. Great song though.
7. Teece Luvv – SHEESH
Teece rocks the Lonely Island's "Turtleneck & Chain" look on the cover of his new single "SHEESH." It's not comedy rap, exactly, but he does ride a plastic dinosaur on the cover (and, again, the title is "SHEESH"). Silly or not, he's a capable rapper – I hear echoes of J-Kwon's "Tipsy" in the verses – riding a super catchy beat.
6. Couchsleepers – On Your Mind
At 6:25, "On Your Mind" is the longest song by far on Couchsleepers' debut album Only When It's Dark. It doesn't feel that way. Buoyed by lush electronics and gentle guitar plucks, "On Your Mind" coasts along for the first chunk of its runtime before exploding (in a gentle sort of way) into a supercatchy synthpop song.
5. The Bubs – Planet
Off the 22 songs on Mark Daly's sprawling double album I'm Gonna Do It (Anyway), probably half were in contention for this list. He divided the set into electropop and Americana halves, and proves equally adept at both genres. From the former half, "Wish I Knew" doesn't bounce as much as some of its competitors, but the catchy ballad (is "catchy ballad" a contradiction? Not in Mark Daly's hands) showcases the inventive production touches and beautifully layered vocals.
4. Troy Millette – Runaway (Live at Higher Ground)
I liked country singer Troy Millette's 2019 debut EP fine, but his live version of "Runaway" takes the song to another level. More muscular than the quieter studio version, Millette's gruff voice and a knockout country-rock band turns the song into a beers-up southern-rock anthem. There's polished Nashville country in his songwriting, but there's Allman Brothers rawness in this delivery. Can't wait until he's able to get back on the road again.
3. Francesca Blanchard – Like a Hurricane
No, "Like a Hurricane" is not a Neil Young cover. But then again, the lead single on Francesca Blanchard's new album Make It Better was titled "Baby," and that wasn't a Justin Bieber cover either. (Though I'd like to hear the covers album that tackles both Bieber and Young – after a few minutes looking, the closest I found was Florence and the Machine, who has covered them both live). Blanchard's "Like a Hurricane" sounds nothing like Neil's, but, in it's quieter way, it's just as turbulent.
2. Jer Coons x PREECE x Learic – Sleeping On My Own
Few genres get as ridiculed as rap-rock, and for good reason (two words: Limp. Bizkit.). But, in their new single "Sleeping On My Own," these three recombine rock and rap in a much more palatable way. "Sleeping On My Own" is mostly a punk song – and an incredibly catchy one at that. Singer/bassist Jer Coons and drummer/guitarist Sean Preece channel their inner Bad Religion on one of those I'm-so-much-better-since-you-left breakup songs where you suspect the narrator might be protesting too much. Then rapper Learic takes a guest verse. And not one of those "I had some unrelated bars sitting around" rap features, but an appearance with every bit as much punk-rock angst as the actual punk parts.
1. Sarah King – Nightstand
"Nightstand" is Sarah King's Revenge of the Murder Ballad Victim anthem; a new murder ballad where the woman does the murdering for once. As King put it to me, when she started digging into the folk tradition of the murder ballad, "I started paying more attention to the lyrics and how people kept saying 'oh, I've never heard a woman sing that song' because they're all about men killing women. I'm still here, so nobody's killed me yet, and I got to feeling the men in these songs may have sorely underestimated some of the women they encountered."
Click here for the Best Vermont Albums of 2020 and here for the Best Vermont EPs of 2020!