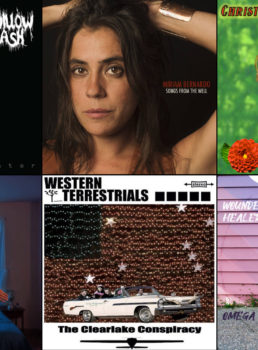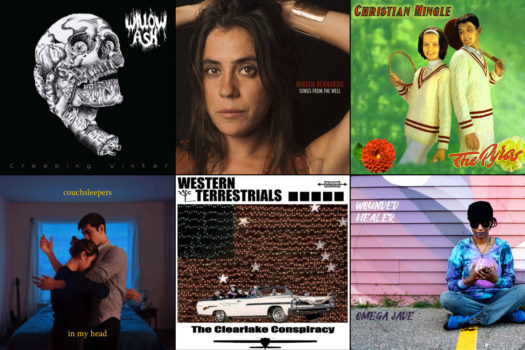 Ali T – Electric Haze

Alison Turner is an artist out of time. She's a singer-songwriter, but not with the folky connotations the phrase often takes on. Rather, something like "Electric Haze" sounds made for radio. Late-'90s radio, that is, when artist like Jewel and Meredith Brooks were racking up top-ten hits. It wouldn't have a chance today, but "Electric Haze" ably walks to tricky line of engaging with nostalgia while creating something new.
Bishop LaVey – I Am the Atom

Last time I wrote about doom-folk singer Kane Sweeney, he was bellowing about the death of ancient gods. His outlook hasn't gotten any cheerier, but the deaths are more recent on his new single. Inspired by the recent Chernobyl miniseries, he wrote a song about "the danger of harnessing atomic power and the consequences of its mismanagement." A heavy topic, and delivered powerfully.
boys cruise – Peachfuzz

boys cruise pack a lot of pop smarts in a sloppy package. Very sloppy, in some cases. When I saw them live, all band members swapped both instruments pants mid-set. They they cut off a band member's hair in huge hunks that got thrown into the crowd. Their debut album is equally shaggy, but these greasy and garagey performances don't hide the hook-packed tunes lurking just beneath the chaos.
Bull's Head – Names

Parts of Bull's Head's debut album sound like one of those lost private-pressing folk records that some vinyl reissue label might unearth. I'm not quite sure what "Names" is about, but the enigmatic lyrics and the barely-there music demand the listener lean in.
Clover Koval – Yoga Mat (Don't Know Where I'm At)

Clover Koval excels at slice-of-life lyrics that echo Courtney Barnett over music that sounds like a lo-fi Best Coast. "Yoga Mat (Don't Know Where I'm At)" might be one of the best song titles of the year. Thankfully, the song itself lives up to its billing.
Couchsleepers – In My Head

The band formerly known as The Giant Peach made both of our best of 2018 lists with a sprawling Talking Heads-inspired pop music. They've since changed their name (is the Roald Dahl estate litigious?), but show a similar ambition under the new moniker Couchsleepers. They've stripped down their sound a bit on their first new song – though stripped-down for them means one horn instead of a half dozen, and the list of instruments main man Harrison Wood Hsiang plays only appears to be going.
Danny & the Parts – Saturday

After sticking in the country lane for their first 2019 EP, this alt-country band swerves to the "alt" side of the hyphenate for a song that channels the Replacements via Wilco's Being There. Come to think of it, are their early-Wilco homages overt? Follow me here: Wilco have a song on that album called "Monday," and this song is "Saturday." Plus, Danny & the Parts' new song "Mississippi Queen" echoes "Casino Queen" on Wilco's first album. Okay, my Claire-Danes-on-Homeland sleuthing doesn't get much further than that; it's a sad conspiracy wall with only two red strings. But you'll hear the musical connections, even if the titular ones may be a stretch.
Eric King – Take Me Away

The phrase "folk-rock with a flute solo" may trigger Jethro Tull haters, but "Take Me Away" uses the combination quite differently. This pretty love ballad doesn't have an ounce of prog in its DNA. The flute mostly adds more subtle auxiliary flourishes, but even during its moment in the spotlight it almost gets overshadowed by beautiful backing vocals.
Glowwworm – Keep Your Solitude

DIY isn't dead! Glowwworm's lo-fi EP Things'll Never Be The Same! recalls the sounds flooding the blogosphere a decade ago, when the ability to produce a decent-sounding rock record in your bedroom was still a novelty. As with much of that music, it demands a bit of attention to hear the catchy songs underneath the haze, but the extra effort pays off.
Ionee – We Are More Than I

Electronic music producer and singer Ionee's new video features a lot of great visuals, but the first truly important shot is subtle: A map of the world with a lot of little dots coming out of Africa and heading to the Americas. As anyone who explored the New York Times 1619 Project knows, this year marks the 400th since the beginning of slavery in America. The Times took a sober look at this history in a magazine supplement and podcast that will undoubtedly win every journalism award there is (and deserve to). Maurice Lajuane Harris takes a very different tack on the same sad history, creating a haunting house track and a mesmerizing animated video.
Jason Baker – The Last Coral Left Alive

Jason Baker refers to his music as "socio-political Americana," though he admits that genre tag "doesn't really roll of the tongue." "The Last Coral Left Alive" puts it a little more poetically, bringing gospel-blues inflections into Baker's folk music. It wears its environmental message on its sleeve, but injects a dose of wit and melody.
Lean Tee – Fern

"This is a song about hysteria," is the entirety of this song's Bandcamp description, but if anything the watchword is "restraint." For most of its duration, it evokes a barely contained energy, slow but certainly not mellow. When it finally does expand into a Yo La Tengo-esq guitar jam, the moment of catharsis is fleeting.
Madaila – Clandestine Magic

When Vermont's dance-pop breakouts Madaila announced an indefinite hiatus last year, they had the better part of a new record in the can. I figured we'd never hear the rest, but, as indefinite hiatuses so often do, it finally dropped the "in." They return with a local concert tonight, and two new singles from that rumored album. Thankfully, they haven't lost a step in their new-wave catchiness, and frontman Mark Daly's falsetto remains as soaring as ever.
Matt Valentine – Minor Rager > Calliphygian Niekro > Minor Rager

Anyone who's ever heard a Grateful Dead tape will recognize the formatting in the title (for everyone else, > indicates segues between different songs). In this case, though, it's a bit of a feint; "Minor Rager" and "Calliphygian Niekro" don't exist as separate songs (except maybe in Matt Valentine's head). This is the first we've heard them. The Dead comparisons don't go far beyond the title and the sense that some people might enjoy this on mushrooms. Valentine brings dance music into his jams, giving an electronic beat to his weird atmospherics.
Miriam Bernardo – I Got a Well

As detailed in two excellent local-news stories, singer Miriam Bernardo's debut album has been a long-time coming. In her many years performing around Vermont, she's connected with many of the local folk musicians, most notably recent Tony-winner Anaïs Mitchell. Mitchell even contributed a song to open Bernardo's album, the beautiful "I Got a Well." When they one day stage the Hadestown revival, this could fit right in.
Omega Jade – Tricks Of The Trade (Petty With A Purpose)

"I write these verses to break generational curses," rapper Omega Jade rhymes on the first single from her debut album Wounded Healer. On "Tricks Of The Trade (Petty With A Purpose)," she puts that into action, passing on some hard-earned business lessons to her kids: "Follow your heart but take your brain with you / Not every damn friend is meant to work with you." She spits proverbial fire going after fake friends and slacker collaborators as she grinds her way to the top.
The Pyros – Casanova

Two things I doubt have ever been used in the same sentence before: "Stacy's Mom" and Jackie Chan. But The Pyros claims them as the two inspirations behind the final installment in their "video EP." The comparison sounds like stretching promo-hype until you watch the video. Yep. "Stacy's Mom" and Jackie Chan (albeit a Jackie Chan whose fight moves perhaps aren't what they once were).
Sarah King and the Guilty Henchmen – Oh Mama

Sarah King's new blues-rock album What Happened Last Night hits the genre's typical bar-band notes, but the most impressive song strips the sound down to barely more than her voice. "Oh Mama" starts as more or less a folk song. The band does join in eventually, but, as on many other blues ballads, the star remains the vocals.
Vivintinn – Hypocrisy

I don't know what Tim Burton's up to right now, but whatever it is, I think we've found the soundtrack. Spooky church organ and string quartets and child's piano would fit right in with some Nightmare Before Christmas sequel. The album cover's even got fancy-dressin' skeletons!
The War Turtles – The Oblong Box
Our second Halloween-appropriate song in a row! "The Oblong Box" sounds enough like some old sea-shanty folk song I had to Google to check if this was a cover. It's not, though I've now learned there's both a Vincent Price movie and Edgar Allen Poe short story of the same name. Dig into the Bandcamp credits and discover that the Poe story did inspire the song at least. It's as depressing a lyric as you'd expect once you guess what that "oblong box" must be.
Western Terrestrials – WWWJD (What Would Waylon Jennings Do?)

Nick Charyk knows his honky-tonk history. He nods to a whole host of heroes from Johnny Paycheck to George Jones on "WWWJD (What Would Waylon Jennings Do?)," slipping in lyrical nods to old country songs like a More important than cramming in the references is nailing the sound of classic outlaw country, which his band Western Terrestrials does with aplomb. The lyrics attack modern pop-country, but you could tell these guys aren't Blake Shelton superfans just by listening to the way they play.
Willow Ash – Into the Willows

October 30 was the perfect release date for this EP. For one, it's called Creeping Winter, and the season will be creeping especially quickly in the band's Vermont homebase. Plus, it's almost Halloween, and there's a creepy skull cover and a song called "Witchgasm." The high point, "Into the Willows," works for any season though, stoner psych-rock that mixed Sabbath and Sleep.