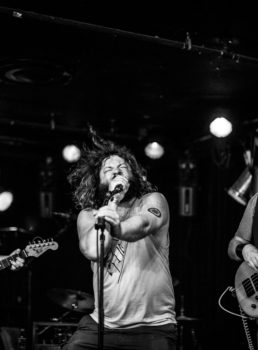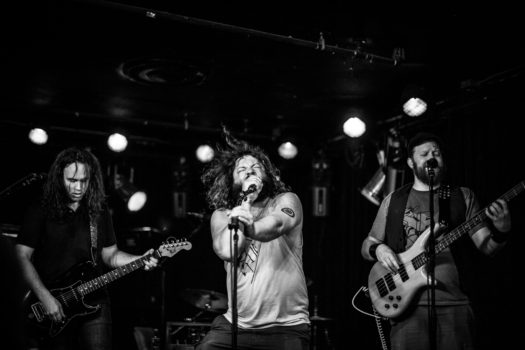 Any band can cite their influences when talking about their music. Fewer cite those influences within that music itself – at least not as frequently as Dino Bravo does.
From the first verse of the first song on their first album, the just-released Blind By Midnight, the Vermont rock quartet wears their favorite bands on their sleeves. That opener, "The Aerialists," shouts out a couple Wilco albums that were important to guitarist Chris Farnsworth. The next track, "Sugar Coated Candy Stix," describes singer Matthew Stephen Perry taking his future wife to a My Morning Jacket show (part of the closing song, "Pass the Mark," musically nods to the same band's "One Big Holiday"). A few songs later, bassist Joshua Shedaker writes a love song to Thin Lizzy.
Dino Bravo sounds like the harder-rocking sides of all three bands, the sort of '70s-inspired classic rock where no song is complete without a shredding guitar solo. Farnsworth calls the record "a drunken love song to rock and roll itself and all the times it was there for us."
This much looking back might be unusual on a band's debut, but Dino Bravo have been plugging away for eight years (and the individual band members much longer than that in other projects). They're now all in or approaching their 40s. That's late for the typical rock band's debut – but, in their case, just the right time.
Blind By Midnight is, among other things, the sound of four rock lifers growing older. "All of us put records out and played tons of shows and toured, all that shit that seems like it will happen forever when you're a kid," Farnsworth says. "After the inevitable happened and those bands were no more and we were all just drinking buddies, we ended up becoming a band in a really off-hand fashion. At its start, Dino Bravo was fiercely unambitious. As we kept playing and writing and the gigs came a little more, we unconsciously moved into being a proper band and allowed a little ambition to slip in."
Sure enough, creative ambition shines through on Blind By Midnight. Dino Bravo's eight-years-late debut rips and shreds and all those other verbs reserved for music that sounds like this. Check it out below, then buy it on Bandcamp.
Check out more of the best rock and roll from Vermont here. Top photo by Luke Awtry.