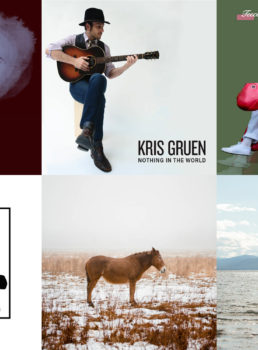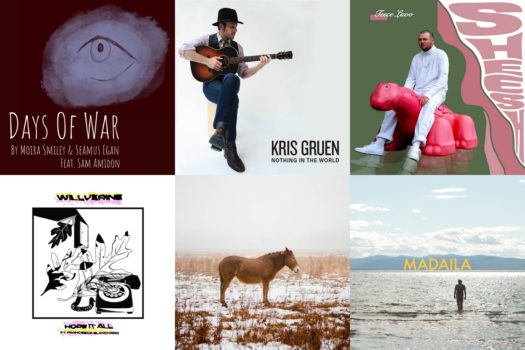 Ben Patton – Just Gotta Be Mine

Anyone who played computer games in the '80s will recognize the look of Ben Patton's new music video. For accuracy, he even used the precise (and extremely limited) color palette of the old EGA graphics card. It seems retro, but Ben's been spending much of quarantine covering old Cole Porter songs, so for him the '80s is relatively modern!
A Box of Stars – Somethinghood

I was playing A Box of Stars's pleasant new acoustic record Museum of Light – think Iron & Wine meets Nebraska – in the background and this line jumped out: "On this long drive out of Phoenix / I saw Tina pulling an old canoe / Full of tangerines as Hesus / Painted passengers passing through."
David Howard – Gemini

David writes of this catchy little folk-rock instrumental: "This song was written as a celebration of a new acoustic guitar that I purchased (A Taylor GSmini). I instantly fell completely in love with the guitar and I wrote this song on it the day I got it. While I originally intended there to be vocals, I ultimately decided to let the guitar do all the talking."
The E. Granby Granby Quartet – Thesis

Ambient free-jazz saxophone seems like it would fall squarely in the category of "not my thing," but to my surprise I'm really enjoying this odd and meditative album. I'm not sure if there's actually a quartet or if this is just the titular E. Granby Granby layer four different baritone saxophones on top of each other, but either way I dig it. I have very little reference point for this sort of thing, but if anyone has ever heard sax group Battle Trance, it's in that vein. Or Moon Hooch minus the funk.
Harpoons – One Happy Island

These days, it's hard not to view everything through the lens of current events. Though the chorus "I'm too young, don't let me die" probably has nothing to do with our ongoing pandemic, it certainly seems to echo with the current times. (And if you think that's a stretch, just be glad I didn't tie in the title "One Happy Island" with a certain Kim Kardashian tweet this week!).
Kris Gruen – Nothing In The World

Kris Gruen comes from rock and roll royalty; his dad is legendary photographer Bob Greun. That famous photo of Lennon, arms folded, with the New York City t-shirt? The one of Zeppelin standing in front of their plane? Both Bob Gruen. Kris's own music doesn't share much in common with his dad's '70s-rock compatriots too. The catchy "Nothing In The World" leans alt-country with a healthy dose of blues grit. He does nod to he heritage on a new cover though – of Johnny Thunders.
Madaila – Anybody Out There?

Mark Daly's pop instincts remain razor-sharp on "Anybody Out There?," but he indulges in some more esoteric flourishes around the margins. The semi-spoken-word breakdowns in the verses echo musical oddballs like Sparks or Tim Fite. But, as Daly always does, he brings it all back home for a supercatchy chorus.
Moira Smiley – Days of War

Former folkie Sam Amidon has gone over to the avant-garde jazz world on recent releases, but he dips back into his banjo-pluckin' past on Moira Smiley's new protest song, written with recent Vermont transplant Seamus Egan.
Phil Henry – Saturday Night At The Hot Sara

Phil Henry's new album Chasing Echoes leans Americana, but for "Saturday Night At The Hot Sara" he takes a swerve towards ragtime jazz. I even Googled to see whether "Hot Sara" was a venue in New Orleans. It's actually a hotel in Upstate New York apparently. Nevertheless, I expect to see a busker playing this in the French Quarter before long.
Sarah King – Nightstand

"Nightstand" is Sarah King's Revenge of the Murder Ballad Victim anthem; a new murder ballad where the woman does the murdering for once.
Tasheff – Cruise

As you might guess from the prominent U-Bahn reference, "Cruise" was written about time in Berlin. Tascheff's Matthew Carlton explains in an email: "'Cruise' was written about post break-up hedonism. It is about both wanting to cruise through life without pain, as well as using sex as a coping mechanism and participating in the ritual-like gay practice of 'cruising,' inspired by encounters in bars in Schöneberg, Berlin. Sonically, it takes hints from 90's R&B, including a dramatic, ballad-like introduction, which then propels into a chugging disco-inspired chorus that carries the listener to the end of the piece, save the left turn and breakdown at the bridge."
Teece Luvv – SHEESH

Teece rocks the Lonely Island's "Turtleneck & Chain" look on the cover of his new single "SHEESH." It's not comedy rap, exactly, but he does ride a plastic dinosaur on the cover (and, again, the title is  "SHEESH"). Silly or not, he's a capable rapper – I hear echoes of J-Kwon's "Tipsy" in the verses – riding a super catchy beat.
Willoughby J. Morse – together

Maybe it's just that the passing of Chet "Jr" White has Girls on my mind, but "together" brings to mind White's Girls partner Christoper Owens. Like Owens, Morse clearly has a taste for old-school pop – girl groups, '50s schmaltz – filtered through a smeared lens of DIY haze.
Willverine ft. Francesca Blanchard – Hope It All

"Synth-pop plus trumpet" used to be the extremely idiosyncratic sound of Will Andrews aka Willverine (it worked better than you'd think). He's broadened beyond that recently, and on his latest single teams up with Francesca Blanchard, another musician whose made a genre transition in recent years. When the trumpet does finally make its appearance in the last thirty seconds, it sounds more like a National-esque horn flourish than any sort of gimmick.
Wren Kitz – Shrouds

One hates to crib directly from the promo materials, but to be honest the record label's Bandcamp description kind of nails it: "Moon-waxin' full-length of spacial guitar action, molten fuzz-folk, feedback ballads, patient psychedelia, and other adjacent territories." There's only one song out so far from Wren Kitz's upcoming album Early Worm, but it touches on all of that in three and a half minutes.