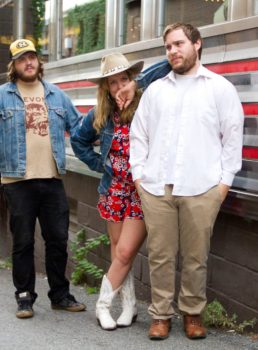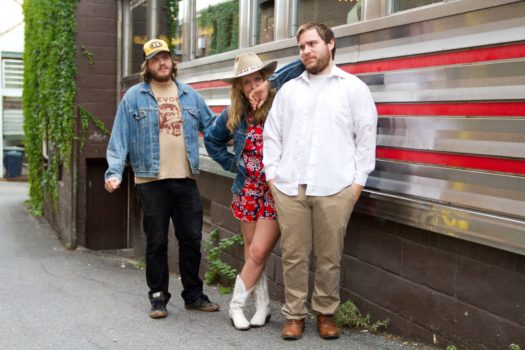 Clever Girls' debut EP Loose Tooth is only 14 minutes long, but there's a whole lot of living packed into those 14 minutes.
Frontwoman Diane Jean first met bassist Winfield Holt and drummer Rob Slater in 2015 via a Craigslist ad (she was conscripted to sing harmonies for Slater's other band 1881, who we also love). Jean had just left Boston for the tiny town of Waitsfield, Vermont, wanting to get away from stressful city life. As she sings in "We Tried," "I tried the city it swallowed me up / And my friends up and die when they take too much / I tried the city but I had enough."
Rural living didn't suit her either though, and she grew increasingly despondent as she began writing songs. "I was so depressed," she says. "I was living in a farmhouse where I rented out a bedroom above the owner's garage. I tried convincing myself so many times that the small-town life was what I wanted, but realized a year later I couldn't do it."
She soon moved to Burlington and brought her farmhouse-attic songs with her. They address the usual sad-song topics of breakups and death, but Jean's lyrical detail adds a specificity that avoids any woe-is-me clichés. Take the devastating opening to EP standout "45," a title that in two digits manages to reference 45 RPM records, guns, and the age of the song's subject:
I dropped by the night that John put a gun to his head.
His wife stops by, she's hung out to dry
eyes all sunken and red
she's outside and I, I just don't believe what she said

your bullets don't stop to ask why
your bullets don't stop to ask why you lied

I spin around an old 45
your shoes are an eyesore
I don't know what I fight for
you laugh at my "mama tried"
"I met somebody last year because he offered to fix my wallet," Jean says. "My wallet was custom-made and said 'Mama Tried' on it (I am a huge fan of outlaw country and people like Merle Haggard are some of my favorite songwriters). At the time that we met, my wallet was essentially just two strips of beat up leather held together by a single thread. He thought it was hysterical that I didn't just get a new wallet. The next day, he came into my work and told me he knew somebody who could fix it. I cried, I was so happy. He ended up being super toxic for me though. We had a falling out after our mutual friend John committed suicide last year."
Countering the often heavy subject matter, the music on "45" and the rest of Loose Tooth is upbeat and catchy, jangly indie-rock that occasionally explodes into punk fury. The music recalls everyone from Waxahatchee to fellow Vermonter Neko Case. It's the sort of record where a track can start with a hollered "1, 2, 3, 4!" and earn its use of the rock and roll cliché.
Listen to the full EP below, then download it for free on Bandcamp.
Click here to discover more of the best new indie rock music in Vermont.