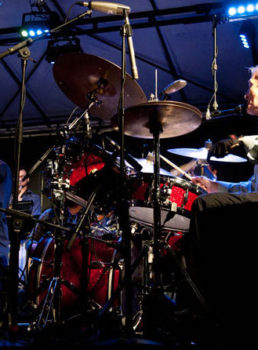 Classic Vermont Albums digs up great records from Vermont's musical past.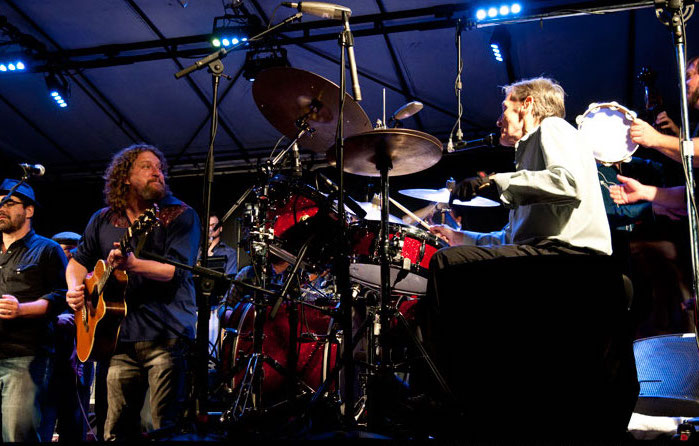 Bow Thayer's Wikipedia page reads like a who's-who of New England's rock and roots scene over the past 25 years. His first Boston-based band Seven League Boots shared bills with Fugazi and Beck. When that band broke up, his new trio Still Home toured with Pearl Jam, who opened for them! "We didn't even know who they were – nobody knew who they were," Thayer told Mountain Times last month.
As the 1990s progressed, Thayer moved away from grunge (as did the rest of the country) and towards Americana and bluegrass, swapping cargo shorts and headbanging for slide guitar and banjo. He cycled through a few bands in that mold – Elbow, Jethro, The Benders, all popular in the New England area – before finally releasing the first album under his own name in 2004. A tight alt-country songwriter had by this point fully replaced the grunge guitarist, complete with mandolin flourishes and references to rivers and conifer trees (literal roots music, in that case). His musical touchstones moved from Nirvana to The Band – though, frankly, he loved the Band even when he was touring with Pearl Jam.
"I was a big fan of the Band," Thayer says today. "During the eighties I was uninspired by the plastic and over-processed music coming through the airwaves. The Band was accessible and still playing around the area where I grew up. I think I used the lyric to 'Life Is a Carnival' as a senior quote in my high school yearbook."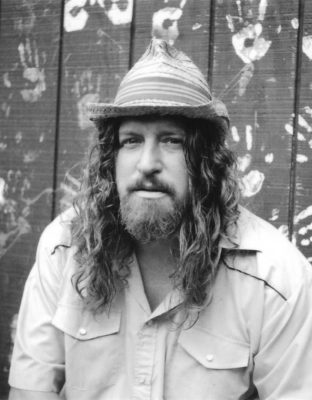 The Band's music crept into his own, just as it inevitably does to anyone who claims the mantle of "Americana." Thayer admired the group's model of "a crew of guys who lived and made music together in a rustic setting and in an organic manner" and tried to emulate it in his own work. The title of that first solo album, The Driftwood Periodicals Volume I, even recalls one of the Band's best-known songs "Acadian Driftwood."
As Thayer recorded his second solo album, he mentioned to his engineer Dave Rizzuti that he wanted to get that "Band sound" on the drums. "Man, I need someone who sounds like Levon Helm," Thayer said. "You know, simple, with a lot of character." Rizzuti replied, "Why don't you just get the man himself?"
Rizzuti, as it happened, had recently worked with Helm on an album by Boston jam band Pete Pidgeon and Arcoda and still had the Band drummer's number. This was several years before Helm's late-career resurgence, and he was open and available for work in between treatments for throat cancer. Thayer wrote a whole new batch of songs with Levon in mind.
A few months later, Thayer got the chance to play those songs with the man himself, recording the album that come to be titled Spend It All. Helm was supposed to be driven from his home in Woodstock to the Boston studio to add his parts. But the night before, an ice storm kicked up and his longtime driver "Butchie" Denner was in a car accident. Butchie was laid up in the hospital and Levon drove himself through the storm for three hours.
"I remember walking across the parking lot to the studio and seeing a wirey old dude struggling to pull a kick drum out of the front seat of his Saab," Thayer says. "He had just been though an awful bout of chemotherapy so he was really skinny and his hair was short, but his personality cut through like a laser." Helm said simply, "Hi Bow, I'm Levon Helm. Let's make some music!"
And they did. Thayer had sent Helm a demo of the songs, but Helm hadn't bothered to listen. He wanted to wing it. "We just played the songs and he just did what Levon does best, which is play his ass off."
They recorded every one of Thayer's new songs live in one or two takes. There's a great behind-the-scenes video online of the group playing "Stoned Kid" (and drinking beers) with Levon. The best moment comes at the end, where Thayer attempts to give Helm a note about a new drum pattern. Helm agrees to try, but adds, "It's one of those things. When you say it, it sounds good out of your mouth, but on the drums, it don't always cook."
The sessions did cook, though, and they cut the entire album with Helm in one afternoon. Thayer's new songs did indeed fit Helm's style perfectly. Many tackle Band-ready subjects like poisonous women ("Snake Bite") and the Apocalypse ("Road to Oblivion"), but the music does not fall into trap of simple Band-pastiche. "Stoned Kid" brings a little Tom Petty sway and "Jewel" adds some subtle synthesizer over beachy ukulele.
Then there's "Wingless Angels." To this day it remains Thayer's best-known song, racking up over 275,000 plays on Spotify and counting. Thayer calls it "probably the only song that has made me any money" and still performs it regularly. It features some of Thayer's best writing, about a dangerous woman who could be another character in "The Weight":
And it felt so real, it felt so right
All we ever did was eat and drink and fuck and fight
Then the deal it got thin she turned me in
I 'd duck beneath the radar and was on the road again
They wrapped the session that afternoon. And though Helm hadn't bothered to listen to Bow much before the session, he clearly liked what he heard. Soon Thayer was making regular trips to Helm's place in to Woodstock. Thayer recorded his next two records at Helm's barn studio, and became a regular at Helm's "Midnight Ramble" concerts, where after his own set he would sing "The Weight" with Helm and whoever else was performing that night (which once included Steely Dan's Donald Fagan).
"Playing the Rambles was like going to church," Thayer says, "just replace all the guilt and God-fearing with partying. We did like eight of them and it has been the pinnacle of my life so far. Once I fucked up the lyrics [to 'The Weight'] and Levon just laughed. Later he said 'Shit son, no harm no foul. I've interchanged those lyrics so many times.'"
Eleven years further on down the road, Helm is gone and Thayer is still at it. He's released seven more albums since Spend It All, including last year's terrific The Source and the Servant, a collection of Dock Boggs and Mississippi Fred McDowell covers. He designs and sells his own custom instrument, the "bojotar" (a banjo-dobro-guitar hybrid). He even ran his own music festival up in Vermont for a time. Through it all, Thayer carries with him the advice that gave the record its name.
"We were about to do the second take of '10,000 Beer Cans,'" Thayer remembers. "I asked Levon to think of [The Band pianist Richard Manuel] while playing this one. That is when he told us about Richard's saying, which pretty much summed up his approach to life in general: 'Spend it all'. I was at my wit's end and beyond broke at the time, so it was just completely fitting to name the album that. I literally spent all I had and then some to finish this record."
Listen to Spend It All below, then buy the full album on CD or MP3 at Bandcamp.
Click here to read more articles about Vermont music history.