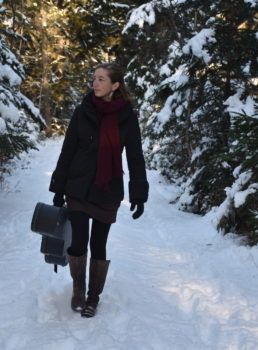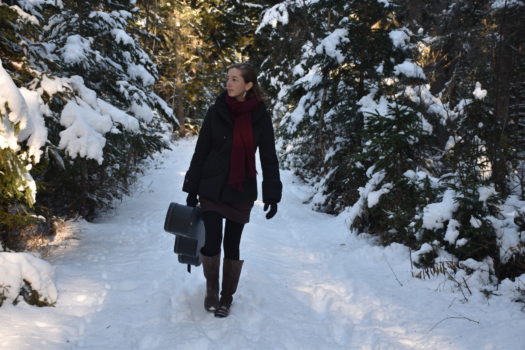 Vermont multi-instrumentalist Katie Trautz has been recording other people's music for a decade. But, until now, never her own.
She plays fiddle in a host of of local bands, from country music group Wooden Dinosaur to Cajun duo Chaque Fois. She sang in vocal choir The Bright Wings Chorus, and wrote a book a couple years ago teaching harmony singing to kids. She co-founded the Summit School of Traditional Music and Culture in Montpelier, and teaches violin in her spare time.
Throughout all that, she's recorded ten albums, both under her own name and alongside her various groups (that includes my third favorite album of 2016). But in every case, someone else was writing the songs. After a decade of quietly amassing her own songs, Trautz finally released a handful on new solo album Passage.
The nine songs on Passage, eight her own compositions, don't sound like the work of a novice. Trautz says she's been writing songs for ten years, but a combination of a slow pace and self-doubt blocked her from releasing them before. They were worth the wait. The title track, written in the three grief-stricken weeks between her mother's death and giving birth herself, blooms with imagery of healing and perseverance. "We Don't Ask" builds from a banjo-plucked ballad to a life-affirming horn reverie. "Same Old Town," meanwhile, reads like a scene in a one-act play.
"I have lived in or around the same town(s) for my whole life," Trautz writes in an email about that song. "Anybody who has stayed in one place for this long will attest to the fact that it can feel like a love/hate relationship. It feels dark as much as it feels light, and it's not always easy to live with your past every single day. I had a vision as I was writing this song, an image of a local (person) walking down the streets of our town at night experiencing all the curiosities of the place, its quirks, its beauties, its darkness."
One surprise on the album, given her past experience: There's little fiddle. Other than the title track and a closing instrumental waltz, her signature instrument makes nary an appearance. This was no accident. "I have often felt like I've been cornered into being a traditional fiddle player, but my musical interests are quite varied," she says. "There's a whole part of me that often goes unexpressed."
She teamed up with local producer Michael Chorney, best known for his work on Anaïs Mitchell's Broadway-bound album and musical Hadestown (not to mention any number of other records on this site). The collaboration worked beautifully, though not in the way she'd envisioned. "I had hoped that by working with Michael, I'd be able to think outside the box more," she writes. "I thought he might take my music in a new direction that I hadn't explored yet. What I found surprising was that we shared a lot of the same ideas, and the outcome sounded a lot like me. What I learned from this project was that you really can't escape who you are as a musician, and that, at the core, it will still sound like the person who created it."
Buy Katie Trautz's Passage at CDBaby or iTunes.
Click here for more of the best Americana music from Vermont.