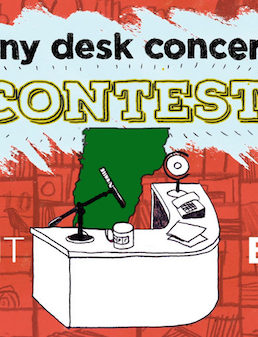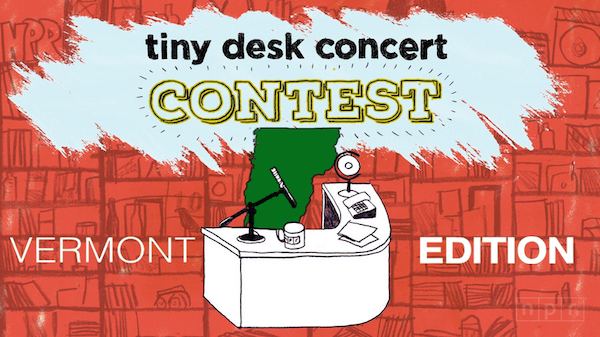 Last weekend, Fantastic Negrito won his first Grammy Award for "Best Contemporary Blues Album." It's a safe bet that few Grammy voters would have ever heard of him had he not won another award two years prior: the NPR Tiny Desk Contest. And if the future is just, last year's winner, the wonderful violinist Gaelynn Lea, will soon be collecting Grammy statues of her own.
Fantastic Negrito hails from California, and Lea from Minnesota. So as this year's contest continues, we think it's time for the Northeast to – to quote Lea's winning song – linger in the sun. To aid in that effort, out of dozens of locally-made videos, we've picked our favorite Vermont entries in the 2017 contest.
The only real rules for a Tiny Desk Contest video are that the song has to be an original and a desk should somehow figure in (it doesn't even need to be tiny). But many of the state's finest musicians went beyond the bare minimum, one dragging a not-so-tiny desk to a mountain summit, another finding a tiny church to match the desk. The songs span from folk to prog, soul to punk to classical piano. There's also a song about dinosaurs, and a special celebrity entrant: Officer Clemmons from Mister Rogers' Neighborhood!
So read on to discover our dozen-plus favorite Vermont entries. Then head to the Tiny Desk Contest website to browse other entries from Vermont and beyond. Our favorite non-Vermont find: this bizarre David Lynch fever-dream masked performer.
The Welterweights

Kelly Ravin and Lowell Thompson have both been kicking around the Burlington music scene for some time, Ravin in local southern-rock-up-north heroes Waylon Speed and Thompson playing in any number of bands. Their latest is a collaboration called The Welterweights, a local supergroup of sorts that also features Willoughby Morse (of Madaila) and Erin Cassels-Brown (scroll down for more on him). They haven't released anything yet, but check out a recent full-band session over at Vermont Public Radio. If they win the Tiny Desk, they could have a full career recording sessions for public radio affiliates.
Kat Wright

Kat Wright has made three consecutive Tiny Desk entries, and each year her videos look and sound better than just about anyone's. In year one, she crammed an eight-piece band (with horn section!) into the old lamp store she owns. Last year they returned with more cameras, for a gorgeously-produced clip that's nearing ten thousand views. This year, they leave the lamp shop and strip the band down to a four-piece to do a song from her fantastic debut album.
Paul Lyons

Definitely the most descriptively-titled number on the list, "Dinosaur Song" delivers just what it promises: dinosaurs. It sounds like an old Dr. Demento comedy radio hit from back in the day, using cheesy synthesizers and effects to sing about how dinosaurs are "just like you and me." Hilarious tangents abound over these surreal seven minutes, from a bit about the gas in your car coming from dino remains to a deeply-researched investigation into the end of the species: "Fire in the sky from outer space / blew away and melted every dino face."
Erin Cassels-Brown & Hannah Fair


Formerly two-thirds of a great Vermont group called The North End Honeys, Cassels-Brown and Fair have gone their own ways. Two terrific songwriters in their own right, Cassels-Brown delivers a beautiful country ballad while Fair brings a good dose of humor, gently ribbing other cities around the country in the spirit Randy Newman's "I Love L.A.": "OK weather ain't always okay / Arizona's too dry and Seattle's too grey / and a Texas twister might up and steal you away."
Eric George

Local Woody Guthrie acolyte Eric George is off the ground running: NPR Music has already featured his entry on their Tumblr. They write, "With a swaying performance on his 12-string and spiritual accompaniment by a spotted pup, George has shared a slice of stirring self-affirmation and bracing goodwill."
Skeleton Dancer

The most vibrant video by far, neon wigs, rainbow dresses, and a giant "Smash the Patriarchy" sign colors Skeleton Dancer's punk-rock reggae. Gogol Bordello's Eugene Hütz hails from Vermont; Skeleton Dancer should open their next tour date up north.
Erik and Francois

Francois Clemmons uses to have another duet partner: Fred Rogers. For 25 years, he played Officer Clemmons on Mister Rogers Neighborhood – one of the first African-Americans to have a recurring role on a kids' TV series. He's retired now, but occasionally records with a singer decades his junior, Erik Benepe. Once you finish their video above, revisit your childhood with this classic Clemmons-Rogers duet from a 1993 episode.
Marcie Hernandez

Look beyond some audio synchronization issues here. On a gorgeous ballad somewhere between folk and fado, Hernandez smoothly switches between Spanish and English. She sounds fantastic in either language.
Gracie Farese & Julia Hass


Current Middlebury College seniors Gracie Farese and Julia Hass sound great together – witness their recent street-busking video – but went solo for a pair of lovely, lilting songs.
Andrew of the North

A piano instrumental admittedly probably doesn't a huge chance of winning. But if the Tiny Desk Contest had Grammy-like genre categories ("Best Rural Contemporary Piano Instrumental"?), Andrew of the North aka. Andrew Grosvenor would be a shoe-in.
Leyeux

Leyeux aka. Jack Snyder certainly wins the effort award, schlepping not only his guitar but his own tiny desk up to the top of a mountain in 11 degree weather. His video was worth the effort, a beautiful song that sounds like a falsetto Bert Jansch.
Mohan Fitzgerald

If you've noticed by now that a few of these videos look similar, it's because Burlington restaurant and music venue Skinny Pancake had the smart idea of staging their own Tiny Desk showcase. The event gave an easy setup to musicians who might not own video equipment (or a desk – these are musicians, after all). The latest to take advantage is Mohan Fitzgerald, who delivers a Dave Matthews-esque jam accompanied by some extra picking and a dry-humored accompanist who quips up front: "You're not going to win."
Raven Ocasio

Ocasio earns points right off the bat by finding not only a tiny desk, but a tiny church. He then moves to a full-size church to perform his beautiful ballad "Little Sister."
Plastique Mammals

Spacey grooves become a ten-minute sonic journey from instrumental duo Plastique Mammals. Blending prog and ambient, a stripped-down duo of Remi Russin on bass and piano Evan Raine on drums build an impressive soundscape out of very little.
Gneiss

The Tiny Desk Contest takes place in the dead of winner, but that didn't stop Gneiss from recording this jammy ode to summertime.
Brightbird

This Tiny Desk recording was apparently Brightbird's first-ever performance. Pretty impressive debut.
Browse more Tiny Desk Contest entries at NPR Music.