See previous monthly Best-Of lists here.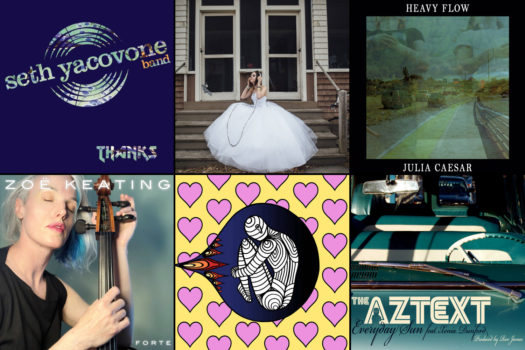 The Aztext ft. Xenia Dunford – Everyday Sun

Last month I wrote about Xenia Dunford's dual comeback EPs. They split along genre lines: the first singer-songwriter Americana, the second a little jazzier. Now she's dabbling in a third genre: hip-hop. On rap duo The Aztext's new single "Everyday Sun," Dunford proves herself a perfect hook singer. The blend producer Rico James creates with her voice and an infectious horn line sounds like a '70s Stevie Wonder jam.
Bent Muffbanger – Wookie

The track is called "Wookie," but the forest creature in this unusual music video looks like more like a Pan's Labyrinth outtake. Turns out, if you dig into the credits, it comes from this 2012 animated short. The curious monster works well with the song, a crunchy bit of blues-funk.
The Dead Shakers – Can You Take Me Back

I've recently been listening to an amazing podcast reviewing every one of the 63 albums Frank Zappa released during his lifetime. Most of the albums sound, frankly, unlistenable. They sure are fun to hear someone wax lyrical about though. The madman blended psychedelia with audio manipulation and a huge roster of rotating instrumentalists. That mix, and the large cast of characters, holds true on the Dead Shakers' debut album. Just subtract all Frank's interminable guitar solos and skits about groupies, and add in a little more Pink Floyd.
FATE – Not My World

I come across plenty of bedroom producers' dark instrumental soundscapes digging through Bandcamp, and I find them pretty interchangeable. But for whatever reason, FATE's EP grabbed me. It blends Nine Inch Nails' Ghost albums with the occasional Skrillex dubstep drop, but I don't think you could dance to it. It sounds more like the soundtrack to a horror movie trailer.
Fever Dolls – Gennifer Flowers

In this blog's first post ever, I named Iron Eyes Cody's debut the second-best album of 2016 (and if I were rewriting it now, after a subsequent year and a half of listening, I'd probably move it to #1). An auspicious start for the band – and also an end, as they soon after retired the name Iron Eyes Cody. They claimed their new moniker – Fever Dolls – would produce a new sound, but thankfully the first new song under that name doesn't appear to be two different than the catchy, clever folk-rock on their debut. "Gennifer Flowers" was filmed along with a couple Iron Eyes Cody tunes for a Noise Ordinance session. Ordinarily I'd say I'm anxiously awaiting a studio version about now, but this live video is so joyous and fun it sets a high bar for any proper recording to beat.
Julia Caesar – Crimson

I don't have much to say about Julia Caesar that I didn't in my lengthy article a few weeks ago. Their new EP remains great, and they launched it with this powerful dance-away-the-pain type music video for "Crimson."
Miku Daza – Panic

If Less Than Jake recorded a Tom Waits covers album, it might sound something like the wonderful cabaret-ska mayhem on Miku Daza's debut EP. The EP's is titled It's a Fairy Tale, and Daza apparently means the sort of twisted fairy tale Tim Burton might film. When you download this track from Bandcamp, the image is a leopard-print clown holding balloons in one hand, a machete in the other. That about says it all.
Princess Nostalgia – Ode to Boy

"I'm tired of being angry at men," Lilian Traviato on Facebook when she released "Ode to Boy." "This song is a message for all the boys that could use a little love (along with a sprinkle of advice regarding how to process feelings in a healthy way)." A good message, indeed, and one leavened here with a winding melody and an acousti-funk rhythmic groove.
Seth Yacovone Band – I Commit Crimes

Non-Vermonters largely know Seth Yacovone from his various guest appearances with Phish over the years, but you wouldn't guess that connection from his own music. His frontman work typically ties much more closely to the blues than his proggier phriends, but Seth indulges in a little weirdness of his own on this highlight from his new EP (and upcoming album teaser) Thanks.
The Smittens – Love Is a Word

Fika Recordings was nice enough to send me a stream of the Smittens' upcoming LP a few months back, and "Love Is a Word" immediately leapt out at me. After the initial single "Cats for Cats" offered both lyrical and sonic surprises from the long-running indie-pop collective (read about them here), the band has released a more typical Smittens number as their next single. Written and sung by Missy Bly, it hews closer to the bands twee roots, cute and uplifting and instantly catchy.
Zoë Keating – Forte

Zoë Keating is not your average cellist. She gives TED talks and collaborates with Amanda Palmer. She rocks multicolored hair and plays with loops and electronics. And, as of 2017, she lives in Burlington, Vermont. Her new EP, appropriately enough, is titled Snowmelt, four songs inspired by "the end of a long winter."
If you missed it, here's our Best Vermont Songs of 2017 post.