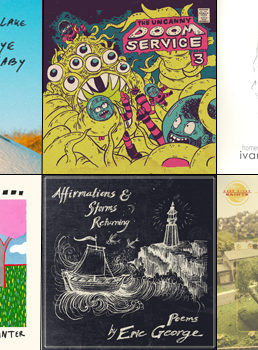 See previous monthly Best-Of lists here.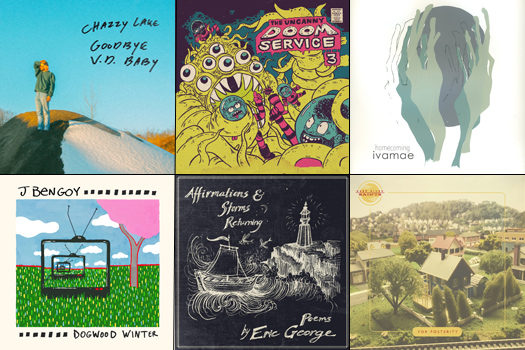 Chazzy Lake – The Next Day

I've raved about Bison and J Bengoy, two of Vermont's best rock bands, a lot on here (in fact, scroll down for a little more J Bengoy raving). And as if playing in both those bands wasn't keeping him busy enough, singer Charlie Hill debuted a new solo project called Chazzy Lake. Debut EP Goodbye V​.​D. Baby kicks off with him playfully arguing with his backing singers on "A Stranger Time" ("Hey Charlie, you've got to get yourself a job!") and builds to "The Next Day," the album's catchiest track, a beach song as filtered through college rock radio.
Clever Girls – Get Out

It's called "Get Out," but as far I as I can tell there aren't any sunken place references here. Just a great country-shoegaze song (did they invent the genre?). Shades of 1950s bubblegum pop on the soaring chorus melody too. We featured their early single in March, and it's no coincidence they're back so soon: their full album Luck dropped this month, and it's fantastic.
Cosmic Dolphin – Nuclear Splash

Cosmic Dolphin – a name I put in the so-bad-it's-good category – is Vermont producer Bill Blais. His debut EP was inspired by current artists like Com Truise and Black Moth Super Rainbow, but sounds vintage. He recorded the entire thing on a Casio keyboard with samples from free sound libraries. If they reboot Tron or Blade Runner again, he should do the soundtrack.
Dan Seiden – Also Ran

This is Dan Seiden's first album but, as you can tell from the first few bars of "Also Ran," he's no newcomer. In the 1990s, he played CBGB with a group called Round Band and went on to collaborate with the likes of Jewel and Lisa Loeb. He says this solo album was inspired by The Freewheelin' Bob Dylan, but you wouldn't know it from the lush double-tracked vocals and guitars.
Deep River Saints – Saved By the Asphalt

The sepia-toned cover of Deep River Saints' album seems to place it firmly in the Americana wheelhouse, but Patrick Crowley's band has some surprises up its sleeve. Take the jammy jazz soloing on "Theft of Weight," or the funky guitar "Nighthawks" that sounds like something from an Isaac Hayes record. Or album highlight "Saved By the Asphalt," which sounds like neither of those. It's a tight pop song surrounded by pedal steel and organ swirls. That is, before the psych-prog guitar comes in.
Derek and The Demons featuring Break Maids – Arrive

The vocals immediately remind me of Warren Haynes, but perhaps the better comparison is Haynes' Allman Brothers bandmate Derek Trucks. Since he was young, Trucks was a guitar ringer, a dependable sideman who never really stepped into the limelight. That is, until he started performing with Susan Tedeschi, an inspired pairing that raised both their games. Similarly, on "Arrive," Derek and The Demons' blues-rock choogle is notably enhanced by the killer vocals of female trio Break Maids.
Doom Service – Miner Forty-Niner

This short blast of pure punk power channels the likes of Thursday or Titus Andronicus. In the tradition of those bands, the pummeling fury only abates for brief moments of shout-along catharsis.
Entrance to Trains – Thirty Days Without an Accident

One of the first pieces I posted in 2018 was about Plastique Mammals' mesmerizing instrumental post-rock album. The duo of Remi Russain and Evan Raine is already back with more, under the band name Entrance to Trains. They teamed with Evan's brother Alex (who produced the Plastique Mammals album – small world) for a new single that shares some DNA with their post-rock adventures, but adds a singer and a little more conventional song structure.
Eric George – Walden's Theme

Country singer-songwriter Eric George's new single "Walden's Theme" sounds right in the pocket for him – at first. A groovy honkytonk number introduces the track, but quickly fades. It's a bait and switch, a musical intro for his poetry recital. It's a clever gambit on his new album Affirmations and Storms Returning, the music serving as a palate cleanser to entice those who might not ordinarily be inclined to listen to a spoken-word poetry collection. Though these little instrumentals are so good, I hope they become full songs someday.
Guthrie Galileo – Wishes

When we last heard from Guthrie Galileo, he was creating political electronic music with samples of a Trump rally. Things get a lot lighter on his new single "Wishes," a sensual slow burn in the vein of Miguel or Maxwell. He says in an email, "This is a playful follow-up to the more serious album, the creative process of which flowed without any forethought. It describes the nuances of a personal relationship, whilst seeking to invoke the more universal and visceral sensations surrounding love and lust."
Ivamae – Homecoming

Singer-songwriter Brittany Mae debuted this new single in a beautiful solo guitar video last year. The recorded version builds on that sparse template – but not much. Subtle guitar swells and piano keys augment the ethereal trance Mae creates with her voice and guitar.
J Bengoy – Hands

J Bengoy titled their debut full-length Dogwood Winter, but it could have easily been called Dog Days of Summer. That's how it feels at times, hazy and woozy, like a party in slow-motion. And "Hands" is the perfect mood-setter. The build is so gradual you might miss it until the drums are going nuts and there's classic rock radio-worthy guitar shredding behind lead singer Justin Barton's yearning vocals.
Paper Castles – Monster of the Week

Bit of a monster theme this month. Another track on Doom Service's album is titled "Monsters are Due on Maple Street" (good Twilight Zone reference), and here's Paper Castles – a band we wrote about not long ago – with "Monster of the Week." Am I missing something? Today is April 30; we literally couldn't be farther from Halloween. Well, I'm glad to have this lo-fi slacker slow burn whatever the season.
If you missed it, here's our Best Vermont Songs of 2017 post.